'Too much work for mechanic'
11th November 1966
Page 43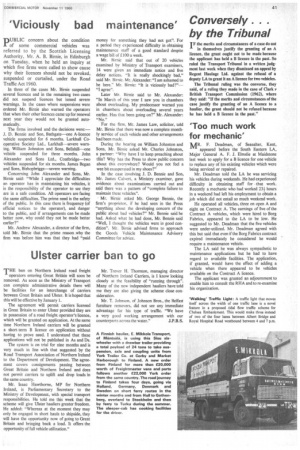 Page 43, 11th November 1966 —
'Too much work for mechanic'
Close
MR. F. Deadman, of Seasalter, Kent,
appeared before the South Eastern LA, Major General A. F. J. Elmslie at Maidstone last week to apply for a B licence for one vehicle to replace any of his existing vehicles which were being serviced or repaired.
Mr. Deadman told the LA he was servicing his vehicles during weekends. He had experienced difficulty in obtaining staff for that work. Recently a mechanic who had worked 23+ hours in a weekend had left his employment to obtain a job which did not entail so much weekend work.
He operated all vehicles, three on open A and eight on Contract A. The earnings of five of the Contract A vehicles, which were hired to Borg Fabrics, appeared to the LA to be low. He suggested to Mr. Deadman that the five vehicles were under-utilized. Mr. Deadman agreed with this but said that even if the Borg Fabrics contract expired immediately he considered he would require a maintenance vehicle.
The LA said he was always sympathetic to maintenance applications but he had to have regard to available facilities. The application, if granted, would have the effect of adding a vehicle when there appeared to be vehicles available on the Contract A licence.
The applicant was granted an adjournment to enable him to consult the RI-IA and to re-examine his organization.