ANNUAL TESTING BY 1970
11th November 1966
Page 41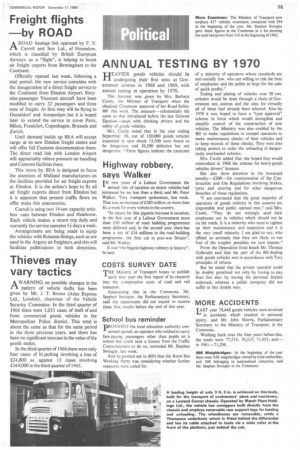 Page 41, 11th November 1966 —
ANNUAL TESTING BY 1970
Close
HEAVIER goods vehicles should be undergoing their first tests at Government centres in 1968 and 1969, with annual testing in operation by 1970.
This forecast was given by Mrs. Barbara Castle, the Minister of Transport when she obtained Commons approval of her Road Safety Bill this week. The measure—substantially the same as that introduced before the last General Election—deals with drinking drivers and the safety of goods vehicles.
Mrs. Castle noted that in the year ending September 30, out of 120,000 goods vehicles examined in spot check 13,500 were found to be dangerous and 36,500 defective but not dangerous. "These figures indicate the existence of a minority of operators whose standards are anti-socially low, who are willing to risk the lives of employees and the public at large for the sake of quick profits."
Testing and plating of vehicles over 30 cwt. unladen would be done through a chain of Government test centres and the sites for virtually all of these had already been selected. Also by 1970 it was hoped to have a "type approval" scheme in force which would strengthen and simplify control of the construction of new vehicles. The Ministry was also enabled by the Bill to make regulations to compel operators to make maintenance checks of their vehicles and to keep records of these checks. They were also taking powers to order the unloading of dangerously overloaded vehicles.
Mrs. Castle added that she hoped they would reintroduce in 1968 the scheme for heavy goods vehicles drivers' licences.
She also drew attention to the increased penalty—£200—for contravention of the Construction and Use Regulations involving brakes, tyres and steering and for other dangerous breaches of those regulations.
"I am convinced that the great majority of operators of goods vehicles in this country are responsible and public spirited men," said Mrs. Castle. "They do not wittingly send their employees out in vehicles which should not be on the roads. It is a minority who need to tighten up their maintenance and inspection and it is the very small minority I am glad to say, who offend so seriously that they are likely to run foul of the tougher penalties we now impose."
From the Opposition front bench Mr. Thomas Galbraith said that the part of the Bill dealing with goods vehicles was in accordance with Tory principles of reform.
But he noted that the private operator could be doubly penalized not only by having to pay fines but also by having his personal licence endorsed, whereas a public company did not suffer in this double way.