US HAULIER PULLS OUT OF EUROPE
11th November 1966
Page 34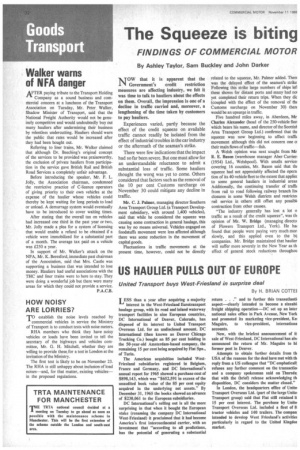 Page 34, 11th November 1966 —
US HAULIER PULLS OUT OF EUROPE
Close
United Transport buys
West-Friesland in surprise deal
By H. BRIAN COTTEE
LESS than a year after acquiring a majority
interest in the West-Friesland Eurotransport haulage group, with its road and inland waterway transport facilities in nine European countries, DC International of Denver, Colorado, has disposed of its interest to United Transport Overseas Ltd. for an undisclosed amount. DC International (then known as Denver Chicago Trucking Co.) bought an 85 per cent holding in the 50-year-old Amsterdam-based company, the remaining 15 per cent being acquired by Fiat Spa., of Turin.
The American acquisition included WestFriesland subsidiaries registered in Belgium, France and Germany, and DC International's annual report for 1965 showed a purchase cost of $898,143, which was "$652,591 in excess of the unaudited book value of the 85 per cent equity acquired in the underlying net assets." By December 31, 1965 the books showed an advance of $230,061 to the European subsidiaries.
DC International's selling out is all the more surprising in that when it bought the European stake (renaming the company DC International West-Friesland) it proclaimed that it had become America's first intercontinental carrier, with an investment that "according to all predictions, has the potential of generating a substantial
return . ." and to further this transatlanti.
aspect—clearly intended to become a sizeabi, freight shipping operation—DC set up an inter national sales office in Park Avenue, New York and promoted its marketing vice-president, Kei Maguire, to vice-president, internationa accounts.
Now, with the briefest announcement of it sale of West-Friesland, DC International has alsi announced the return of Mr. Maguire to hi Former post in Denver.
Attempts to obtain further details from tit USA of the reasons for the deal have met with th reply from a US colleague that "DC ernphaticall. refuses any further comment on the transactim and a company spokesman said on Thursda that with the (brief) release acknowledging th disposition, DC considers the matter closed."
In London, the headquarters office of Unite' Transport Overseas Ltd. (part of the large Unite' Transport group) said that Fiat still retained it 15 per cent interest. The purchase by Unite, Transport Overseas Ltd. included a fleet of 8: tractor vehicles and 140 trailers. The compan intended to develop West Friesland's activities particularly in regard to the United Kingdor market.