NFT upsets neighbours
11th May 1985
Page 8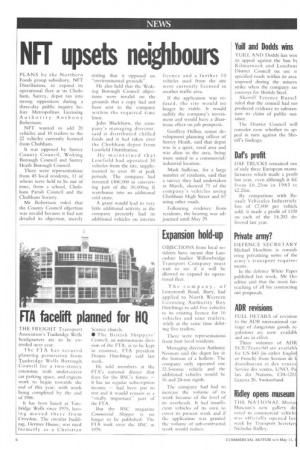 Page 8, 11th May 1985 —
NFT upsets neighbours
Close
PLANS by the Northern Foods group subsidiary, NFT Distribution, to expand its operational fleet at its Chobham, Surrey, depot ran into strong opposition during a three-day public inquiry before Metropolitan Licensing Authority Anthony Robertson.
NET wanted to add 20 vehicles and 10 trailers to the 22 vehicles currently licensed from Chobham.
It was opposed by Surrey County Council, Woking Borough Council and Surrey Heath Borough Council.
There were representations from 45 local residents, 11 of whom were held to be out of time, from a school, Chobham Parish Council and the Chobhatn Society.
Mr Robertson ruled that the County Council objection was invalid because it had not detailed its objection, merely stating that it opposed on "environmental grounds".
He also held that the Woking Borough Council objections were invalid on the grounds that a copy had not been sent to the company within the required time limit.
John Blackburn, the company's managing director, said it distributed chilled foods and it had taken over the Chobham depot from Low field Distribution.
He maintained that LowrieId had operated 30 vehicles from the site, supplemented to over 40 at peak periods. The company had invested 8;400,000 in converting part of the 50,000sq ft warehouse into an additional cold store.
A grant would lead to very little additional activity as the company presently had its additional vehicles on interim licence and a further 10 vehicles used from the site were currently licensed in another traffic area.
If the application was refused, the site would no longer be viable. It would nullify the company's investment and would have a disastrous effect on job prospects.
Geoffrey Hellen, senior development planning officer of Surrey Heath, said that depot was in a quiet, rural area and was alien to the area, being more suited to a commercial/ industrial location.
Mark Sullivan, for a large number of residents, said that a survey they had undertaken in March, showed 71 of the company's vehicles using Chobham High Street and 67 using other roads.
Following evidence from residents, the hearing was adjourned until May 29.