Ban bathe date is set
11th May 1985
Page 7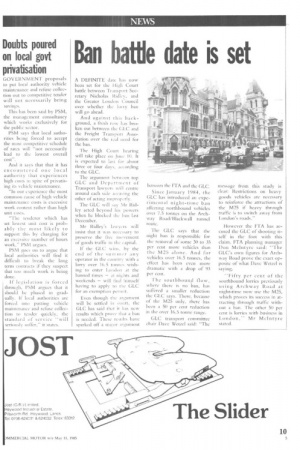 Page 7, 11th May 1985 —
Ban bathe date is set
Close
Keywords :
Members Of The Greater London Council
,
Transport In Buckinghamshire
,
Transport In Kent
,
Local Government In London
,
Greater London Council
,
Ken Livingstone
,
Goldie Lookin Chain
,
Glc
,
London
,
M25 Motorway
,
Environment
A DEFINITE date has now been set for the High Court battle between Transport Secretary Nicholas Ridley, and the Greater London Council over whether the lorry ban will go ahead.
And against this background, a fresh row has broken out between the GLC and the Freight Transport Association over the real need for the ban.
The High Court hearing will take place on June 10. It is expected to last for about three or four days, according to the GLC.
The argument between top GLC and Department of Transport lawyers will centre around each side accusing the other of acting Improperly.
The GLC will say Mr Ridley acted beyond his powers when he blocked the ban last December.
Mr Ridley's lawyers will insist that it was necessary to preserve the free movement of goods traffic in the capital.
If the GLC wins, by the end of the summer any operator in the conntn: with a lorry over 16,5 tonnes wishing to enter London at the banned times — at nights and weekends — will find himself having to apply to the GLC for an exemption permit.
Even though the argument will be settled in court, the GLC has said that it has new results which prose that a ban is needed. These results have sparked off a major argument
between the ETA and the GLC.
Since _January 1984, the GLC has introduced an experimental night-time ban affecting northbound vehicles over 7.5 tonnes on the Archway Road/Blackwall tunnel route.
The GLC says that the night ban is responsible for the removal ofsonic 30 to 35 per cent more vehicles than the M25 alone. And for vehicles over 16.5 tonnes, the effect has been even more dramatic with a drop of 93 per cent.
The southbound flow, where there is no ban, has suffered a smaller reduction the GLC says. There, because of the M25 only, there has been a 50 per cent reduction in the over 16.5 tonne range.
GLC transport committee chair Dave Wetzel said: "The
message from this study is clear: Restrictions on heavy goods vehicles are necessary to reinforce the attractions of the M25 if heavy through traffic is to switch away from london's roads.'
However the FTA has accused the GLC of shooting itself in the foot with this claim. FTA planning manager Don McIntyre said: "The GLC's own figures for Archway Road prove the exact opposite of what Dave Wetzel is saying.
"Fifty per cent of the southbound lorries previously using Archway Road at night-time now use the M25, which proves its success in attracting through traffic without a ban. The other 50 per cent is lorries with business in London,'' Mr McIntyre stated.