MYTHICAL BODIES
11th May 1985
Page 63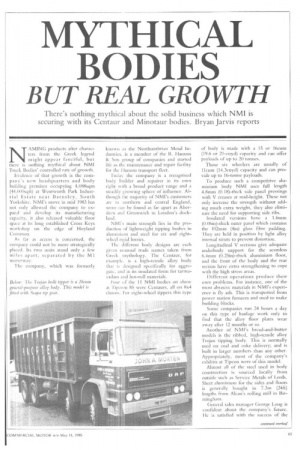 Page 64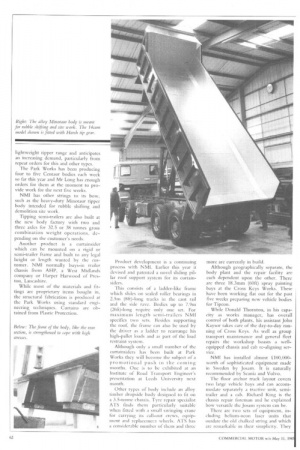 Page 65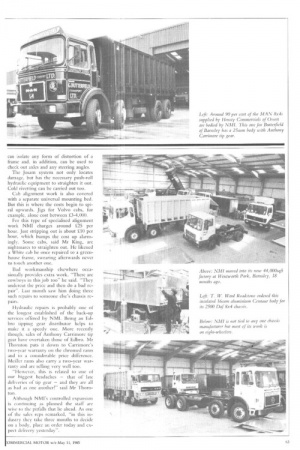 Page 63, 11th May 1985 —
MYTHICAL BODIES
Close
BUT REAL GROWTH
There's nothing mythical about the solid business which NMI is securing with its Centaur and Minotaur bodies. Bryan Jarvis reports
NAMING products after characters from the Greek legend might appear fanciful, but there is nothing mythical about NMI Truck Bodies' controlled rate of growth.
Evidence of that growth is the company's new headquarters and body building premises occupying 4,088sqm (44,000sqlt) at Wentworth Park Industrial Estate near Barnsley, South Yorkshire. NM1's move in mid 1983 has not only 'allowed the company to expand and develop its manufacturing capacity, it also released valuable floor space at its long established Cross Keys workshop on the edge of Hoyland Common.
As far as access is concerned, the company could not be more strategically placed. Its two units stand only a few miles apart, separated by the M1 motorway.
The company, which was formerly known as the Northumbrian Metal Industries, is a member of the R. Hanson & Son group of companies and started lire as the maintenance and repair facility for the Hanson transport fleet.
Today the company is a recognised body builder and repairer in its own right with a broad product range and a steadily growing sphere of influence. Although the majority of NMI's customers are in northern and central England, some call be found as far apart as Aberdeen and Greenwich in London's dockland.
NMI's main strength lies in the production of lightweight tipping bodies in aluminium and steel for six and eightwheel rigid lorries.
The different body designs are each given unusual trade names taken from Greek mythology. The Centaur, for example, is a high-tensile alloy body that is designed specifically for aggregate, and in its insulated form for tarmacadam and hot-roll materials.
Four of the 11 NMI bodies on show `1.ipcorn 85 were Centaurs, all on 8x4 chassis. For eight-wheel tippers this type
of body is made with a 15 or 16cum (19.6 or 21-cuyd) capacity and can offer payloads of up to 20 tonnes.
Those six wheelers are usually of llcum (14.3cuyd) capacity and can provide up to 16-twine payloads.
To produce such A competitive
aluminium body NMI uses full length 4.8mm (0.18)-thick side panel pressings with V creases at mid-height. These not only increase the strength without adding much extra weight, they also eliminate the need for supporting side ribs.
Insulated versions have a 1.6mm (0.06in)-thick outer panel which contains the 102mm (4in) glass fibre padding. They arc held in position by light alloy internal struts to prevent distortion.
Longitudinal V sections give adequate underbody support for the seamless 6.4mm (0.25in)-thick aluminium floor, and the front of the body and the rear section have extra strengthening to cope with the high stress areas.
Different operations produce their own problems. For instance, one of the most abrasive materials in NMI's experience is fly ash. This is transported from power station furnacesd
an_ used to make building blocks.
Some companies run 24 hours a day on this type of haulage work only to find that the alloy floor plates wear away after 12 months or so.
Another of NMI's bread-and-butter models is the ribbed, high-tensile alloy Trojan ripping body. This is normally used on coal and coke delivery; and is built in larger numbers than any other. Appropriately, most of the company's exhibits at Tipcon were of this model.
Almost all of the steel used in body construction is sourced locally from outside such as Service Metals of Leeds. Sheet aluminium for the sides and floors is generally bought in 7.3m (241t) lengths from Alcan's rolling mill in Birmingham.
General sales manager George Long is confident about the company's future. He is satisfied with the success of the lightweight tipper range and anticipates an increasing demand, particularly from repeat orders for this and other types.
The Park Works has been producing four to five Centaur bodies each week so far this year and Mr Long has enough orders for them at the moment to provide work for the next five weeks.
NMI has other strings to its bow, such as the heavy-duty Minotaur tipper body intended for rubble shifting and demolition site work.
Tipping semi-trailers are also built at the new body factory with two and three axles for 32.5 or 38 tonnes gross combination weight operations, depending on the customer's needs.
Another product is a curtainsider which can be mounted on a rigid or semi-trailer frame and built to any legal height or length wanted by the customer. NMI normally buys-in trailer chassis from AFIP, a West Midlands company or I larper Harwood of Preston, Lancashire.
While most of the materials and fittings arc proprietary items bought in, the structural fabrication is produced at the Park Works using standard engineering techniques. Curtains are obtained from Plastic Protection. Product development is a continuing process with NMI. Earlier this year it devised and patented a novel sliding pillar roof support system for its curtainsiders.
This consists of a ladder-like frame which slides on sealed roller bearings in 2.5m (8ft)-long tracks in the cant rail and the side rave. Bodies up to 7.9m (26ft)-long require only one set. For maximum length semi-trailers NMI specifies two sets. Besides supporting the roof, the frame can also be used by the driver as a ladder to rearrange his high-pallet loads and as part of the load restraint system.
Although only a small number of the curtainsiders has been built at Park Works they will become the subject of a promotional push in the coming months. One is to be exhibited at an Institute of Road Transport Engineer's presentation at Leeds University next month.
Other types of body include an alloy timber dropside body designed to fit on a 3.5-tonne chassis. Tyre repair specialist ATS finds them particularly suitable when fitted with a small swinging crane for carrying its call-Out c:rews, equipment and replacement wheels. ATS has a considerable number of them and three more are currently in build.
Although geographically separate, the body plant and the repair facility are each dependent upon the other. There are three 18.3mm (60ft) spray painting bays at the Cross Keys Works. These have been working flat out for the past five weeks preparing new vehicle bodies for Tipcon.
While Donald Thornton, in his capacity as works manager, has overall control of both plants, his assistant John Kaysor takes care of the day-to-day running of Cross Keys. As well as group transport maintenance and general fleet repairs the workshop boasts a wellequipped chassis and cab re-aligning service.
NMI has installed almost £100,000worth of sophisticated equipment made in Sweden by Josam. It is naturally recommended by Scania and Volvo.
The floor anchor track layout covers two large vehicle hays and can accommodate separately a tractive unit, semitrailer and a cab. Richard King is the chassis repair foreman and he explained how versatile the Josam system can be.
There are two sets of equipment, inchiding helium-neon laser units that outdate the old chalked string and which are remarkable in their simplicity. They can isolate any form of distortion of a frame and, in addition, can be used to check out axles and any steering angles.
The Josam system not only locates damage, but has the necessary push-roll hydraulic equipment to straighten it out. Cold rivetting can be carried out too.
Cab alignment work is also covered with a separate universal mounting bed. But this is where the costs begin to spiral upwards. Jigs for Volvo cabs, for example, alone cost between 04000.
For this type of specialised alignment work NMI charges around L25 per hour. Just stripping out is about £10 per hour, which bumps the cost up alarmingly. Some cabs, said Mr King, are nightmares to straighten out. He likened a White cab he once repaired to a greenhouse frame, swearing afterwards never to touch another one.
Bad workmanship elsewhere occasionally provides extra work. "There arc cowboys in this job too" he said. "They undercut the price and then do a bad repair''. Last month saw him doing three such repairs to someone else's chassis repairs.
Hydraulic repairs is probably one of the longest established of the back-up services offered by NMI. Being an Edbro tipping gear distributor helps to make it a speedy one. More recently though, sales of Anthony Carrimore tip gear have overtaken those of Edbro. Mr Thornton puts it down to Carrimore's two-year warranty on the chromed rams and to a considerable price difference. Meiller rains also carry a two-year warranty and are selling very well too.
"However, this is related to one of our biggest headaches — that of late deliveries of tip gear — and they are all as had as one another?" said Mr Thomton.
Although NMI's controlled expansion is continuing as planned the staff are wise to the pitfalls that lie ahead. As one of the sales reps remarked, "in this industry they take three months to decide on a body, place an order today and expect delivery yesterday".