ON THE TRAIL OF A
11th May 1985
Page 60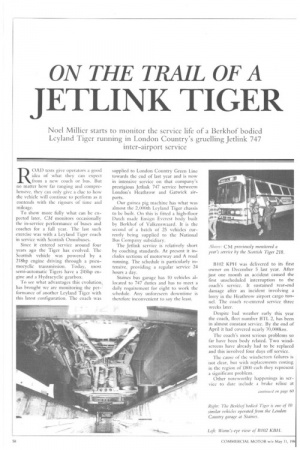 Page 62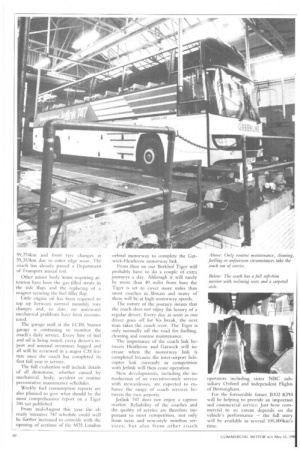 Page 60, 11th May 1985 —
ON THE TRAIL OF A
Close
JETLINK TIGER
Noel Millier starts to monitor the service life of a Berkhof bodied Leyland Tiger running in London Country's gruelling Jetlink 747 inter-airport service
ROAD tests give operators a good idea of what they can expect from a new coach or bus. But no matter how far ranging and comprehensive. they can only give a clue to how the vehicle will continue to perform as it contends with the rigours of time and mileage.
To show more fully what can be expected later, CM monitors occasionally the in-service performance of buses and coaches for a lull year. The last such exercise was with a Leyland Tiger coach in service with Scottish Omnibuses.
Since it entered service around four years ago the Tiger has evolved. The Scottish vehicle was powered by a 218hp engine driving through a pneumocyclic transmission. Today, most semi-automatic Tigers have a 245hp engine and a Hydracyclic gearbox.
To see what advantages this evolittion has brought we are monitoring the performance of another Leyland Tiger with this latest configuration. The coach was supplied to London Country Green Line towards the end of last year and is now in intensive service on that company's prestigious Jetlink 747 service betweetn London's Heathrow and Gatwick airports.
Our guinea pig machine has what was almost the 2,000th Leyland Tiger chassis to be built. On this is fitted a high-floor Dutch made Ensign Everest body built by Berkhof of Valkenswaard. It is the second of a batch of 25 vehicles currently being supplied to the National Bus Company subsidiary.
The Jetlink service is relatively short by coaching standards. At present it includes sections of motorway and A road running. The schedule is particularly intensive, providing a regular service 24 hours a day.
Staines bus garage has 10 vehicles allocated to 747 duties and has to meet a daily requirement for eight to work the schedule. Any unforeseen downtime is therefore inconvenient to say the least. 11102 KPH was delivered to its first owner on December 5 last year. After just one month an accident caused the first unscheduled interruption to the coach's service. It sustained rear-end damage after an incident involving a lorry in the Heathrow airport cargo tunnel. The coach re-entered service three weeks later.
Despite bad weather early this year the coach, fleet number BTL 2, has been in almost constant service. By the end of April it had covered nearly 70,000km.
The coach's most serious problems so far have been body related. Two windscreens have already had to be replaced and this involved four days off service.
The cause of the windscreen failures is not clear, but with replacements costing in the region of £800 each they represent a significant problem.
Other noteworthy happenings in Service to date include a hrake reline at
59,274km and front tyre changes at 55,333km due to outer edge wear. The coach has already passed a Department of Transport annual test.
Other minor body items requiring attention have been the gas filled struts in the side flaps and the replacing of a magnet securing the fuel filler flap.
Little engine oil has been required to top up between normal monthly rota changes and, to date, no untoward mechanical problems have been encountered.
The garage staff at the LCBS Staines garage is continuing to monitor the coach's daily service. Every litre of fuel and oil is being noted, every driver's report and unusual occurance logged and all will be reviewed in a major CM feature once the coach has completed its first full year in service.
The full evaluation will include details of all downtime, whether caused by mechanical, body, accident or routine preventative maintenance schedules.
Weekly fuel consumption reports are also planned to give what should be the most comprehensive report on a Tiger 245 yet published.
From mid-August this year the already intensive 747 schedule could well be further increased to coincide with the opening of sections of the M25 London orbital motorway to complete the Gatwick-Heathrow motorway link.
From then on our Berkhof Tiger will probably have to do a couple of extra journeys a day. Although it will rarely be more than 40 miles from base the Tiger is set to cover more miles than most coaches in Britain and many of these will be at high motorway speeds.
The nature of the journey means that the coach does not enjoy the luxury of a regular driver. Every day as soon as one driver goes off for his break, the next man takes the coach over. The Tiger is only normally off the road for fuelling, cleaning and routine maintenance.
The importance of the coach link between Heathrow and Gatwick will increase when the motorway link is completed because the inter-airport helicopter link currently in competition with Jetlink will then cease operation.
New developments, including the introduction of an executive-style service with stewardesses, are expected to enhance the range of coach services between the two airports.
Jetlink 747 does not enjoy a captive market. Reliability of the coaches and the quality of service are therefore important to meet competition, not only from taxis arid new-style minibus services, but also from other coach operators including sister NBC subsidiary Oxford and independent Flights of Birmingham.
For the foreseeable future B102 KPH will be helping to provide an important and commercial service. Just how commercial to an extent depends on the vehicle's performance — the full story will be available in several 100,000km's time.