Seddon may offer cool 301
11th May 1985
Page 6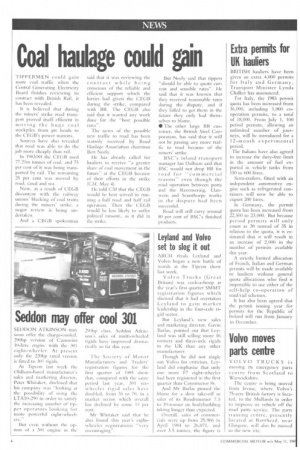 Page 6, 11th May 1985 —
Seddon may offer cool 301
Close
SEDDON ATKINSON may soon offer the charge-cooled, 290hp version of Cummins 10-litre engine with the 301 eight-wheeler. At present only the 220hp rated version is fitted to 301 rigids.
At Tipcon last week the Oldham-based manufacturer's sales and marketing director, Peter Whitaker, disclosed that his company was "looking at the possibility of using the LTA10-290 in order to satisfy the increasing number of tipper operators looking for more powerful eight-wheelers." But even without the option of a 301 engine in the 290hp class, Seddon Atkinson's sales of multi-wheeled rigids have improved dramatically so far this year.
The Society of Motor Manufacturers and Traders' registration figures for the first quarter of 1985 show that, compared with the same period last year, 301 sixwheeler rigid sales have doubled, from 35 to 70, in a market sector which overall has declined by some 14 per cent.
Mr Whitaker said that he also found this year's eightwheeler registrations "very encouraging",