Leyland and Volvo set to slog it out
11th May 1985
Page 6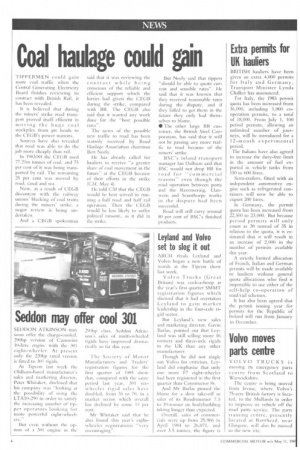 Page 6, 11th May 1985 —
Leyland and Volvo set to slog it out
Close
AR(..21-1 rivals I.eyland and Volvo began a new battle of words at the Tipcon show last week.
Volvo Trucks (Great Britain) was cock-a-hoop at the year's first quarter SMMT registration figures which showed that it had overtaken Leyland to gain market leadership in the four-axle rigid sector.
But Leyland's new sales and marketing director, Gavin Barlas, pointed out that Leyland was still selling more 16 minters and three-axle rigids in the UK than any other manufacturer.
Though he did not single out Volvo for criticism, Leyland did emphasise that only one more F7 eight-wheeler had been registered in the first quarter than Constructor 8s.
And Mr Barlas pinned the blame tin a slow take-off in sales of its Roadrummer 7.5 to 10-tonner on bodybuilding taking longer than expected.
Overall, sales of commercials were up from 25,966 in April 1984 to 26,071, and over 3.5 tonnes, the figure is