Extra permits for UK hauliers
11th May 1985
Page 6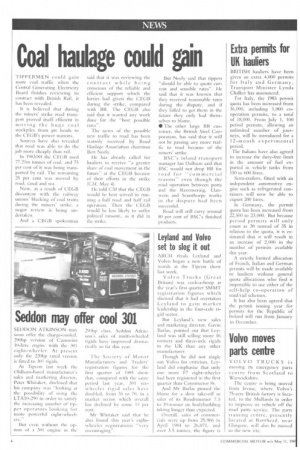 Page 6, 11th May 1985 —
Extra permits for UK hauliers
Close
BRITISH hauliers have been given an extra 4,000 permits for Italy and Germany, Transport Minister Lynda Chalker has announced.
For Italy, the 1985 permit quota has been increased from 16,000, including 1,000 cooperation permits, to a total of 18,000. From July 1, 100 period permits, allowing an unlimited number of journeys, will be introduced for a 1 2-month experimental period.
The Italians have also agreed to increase the duty-free limit in the amount of fuel exported in vehicle tanks from 150 to 600 litres.
Semi-trailers, fitted with an independent automotive engine such as refrigerated containers will now be able to export 200 litres.
In Germany, the permit quota has been increased from 22,500 to 23,000. But because period permits will only count as 30 instead of 35 in relation to the quota, it is estimated that it will result in an increase of 2,000 in the number of permits available this year.
A strictly limited allocation of French, Italian and German permits will be made available to hauliers without general quota allocations who find it impossible to use either of the self-help co-operation of road/rail schemes.
It has also been agreed that the permit issuing year for permits for the Republic of Ireland will run from January to December.