Coal haulage could gain
11th May 1985
Page 6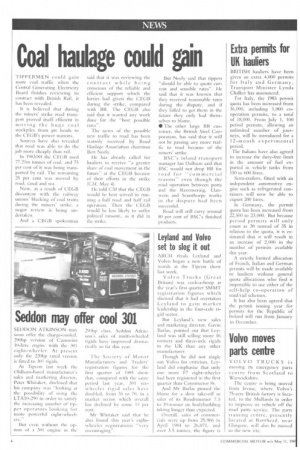 Page 6, 11th May 1985 —
Coal haulage could gain
Close
TIPPERMEN could gain more coal traffic when the Central Generating Electricity Board finishes reviewing its contract with British Rail, it has been revealed.
It is believed that during the miners' strike road transport proved itself efficient in moving the huge coal stockpiles from pit heads to the CEGB's power stations.
Sources have also revealed that road was able to do the job more cheaply than rail.
In 1983/84 the CEGB used 77.21m tonnes of coal, and 73 per cent of it was being transported by rail. The remaining 25 per cent was moved by road, canal and sea.
Now, as a result of CEGB discontent with the railway unions' blacking of coal trains during the miners' strike, a major review is being undertaken.
And a CEGB spokesman said that it was reviewing the contract while being conscious of the reliable and efficient support which the lorries had given the CEGB during the strike, compared with BR. The CEGB also said that it wanted any work done for the "best possible rates".
The news of the possible new traffic to road has been warmly received by Road Haulage Association chairman Bert Neely.
He has already called for hauliers to receive ''a greater share of coal movement in the future" at the CEGB because of their efforts in the strike (CM, May 4).
He told CM that the CEGB would be best served in running a half road and half rail operation. Then the CEGB would be less likely to stiffer political ransom, as it did in the strike. But Neely said that tippers "should be able to quote current and sensible rates". He said that it was known that they received reasonable rates during the dispute, and if they failed to get them in the future they only had themselves to blame.
• The other large BR customer, die British Steel Corporation, has said that it will not be passing any more traffic to road because of the miners' strike.
BSC's inland transport manager Ian Dallison said that BSC would not drop BR for road for "commercial reasonseven though the road operation between ports and the Ravenscraig, Llanwern arid Scunthorpe works in the dispute had been successful.
Road will still carry around 80 per cent of BSC's finished products.