FRUGAL, FAST
11th May 1985
Page 51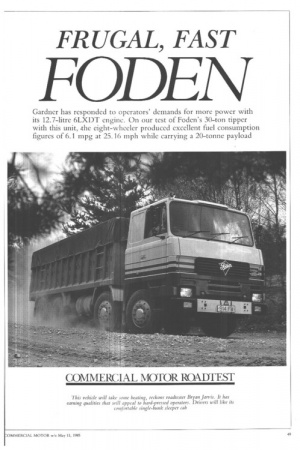 Page 52
Page 53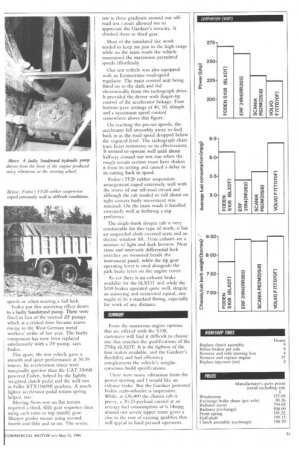 Page 51, 11th May 1985 —
FRUGAL, FAST
Close
FOIDEN
Gardner has responded to operators' demands for more power with its 12.7-litre 6LX1)T engine. On our test of Foden's 30-ton tipper with this unit, .the eight-wheeler produced excellent fuel consumption figures of 6.1 mpg at 25.16 mph while carrying a 20-tonne payload
LAST AUTUMN'S unveiling of Gardner's 12.7-litre 6LXDT was a shot in the arm for Britain's eightwheeler manufacturers.
Foden was keen to include the new Gardner engine alongside the 6LXCT and Caterpillar, Cummins and RollsRoyce options for its S108 30-ton tipper chassis.
Three power ratings, 250, 260 and 270bhp, are available bringing the 6LXDT into line with the demand by operators for more power (the 6LXCT is a 230hp unit).
As far as Foden is concerned the higher-powered 6LXDT engine is certainly proving to be the best selling Gardner engine, and most customers choose the 260 or 270bhp versions.
Gardner obtained the additional horsepower by simply increasing the bore of the 10.45-litre 6LXCT with its dry cylinder liner design by 9min (0.35in) to 130.2mm (5.125in) and lengthening the stroke by 5.6mm (0.2in) to 138.8mm (6.251n).
Another significant change and one which affects all of its current range of engines is the dropping of the familiar Gardner/CAV fuel injection equipment in favour of proprietary Lucas CAV injectors and Majormec pumps.
Leaky injector pipe connections, once common in Gardner engines, are expected to become a bad memory. Injector pipes arc now routed through the cylinder heads instead of being clamped between valve covers and heads.
Foden's policy of offering a choice of several different makes of engine can cause headaches.
A comparison with the Caterpillar 3306B engine dimensions (CM May 5, 1984) illustrates the point. While the 6LXDT is 238mm (9.4in) longer at 1,569mm (61.8in), it is 72mm (2.8in) shorter and 63mm (2.5in) narrower than the 1,212mm (47.7in) by 769mm (30.3in) of the 330613.
However, installing the 6LX1)T engine into the Foden meant overcoming only relatively minor snags. Slight alterations to the exhaust and air intake systems were necessary at the turbocharger while the radiator upper supports needed modifying. Very minor chassis alterations were required CO make it a very neat installation and one which incidentally is 197kg (434 lb) lighter than the Rolls-Royce 265 powered base 5108 model. It also weighs 38kg (84 lb) less than the Cat engined eight-wheeler.
Extensive use of aluminium for the first and second spring mounting brackets, the fitting of alloy wheels and alloy fuel tank help to bring the chassis/cab's weight down to a very competitive 7.83 tonnes.
The 22.94cum (30cuyd) aluminium tipping body fitted to our test vehicle enables a payload of 20 tonnes plus to be carried.
PERFORMANCE Undoubtedly, the 6LXDT-powered Foden's strongest attraction is its remarkable fuel efficiency and its overall performance.
According to Gardner, its minimum specific fuel consumption is given as 192g/kW/h (0.315 lb/hp/h) while its maximum torque of 1,140Nm (840 lbft) is developed at 1,300rpm.
Around our tough tipper route this translated into excellent fuel economy figures of 46.0 lit/100km (6.14mpg) at an overall average speed of 40.48km/h (25.16mph).
Only the Volvo F7 8x4 test (CM November 17, 1979) has returned better fuel economy with 44.7 lit/100km (6.32mpg), but this was in a much slower 38.3km/h (23.8mph) time.
Between Mira in the West Midlands and our tipper testing ground at Bagshot in Surrey lay 198.5k.m (123.5miles) of mixed motorways and dual carriageways. Over this distance the fully laden test vehicle returned 35.45 lit/100km (7.97mpg) at an average speed of 68.1km/h (42.3mph). These figures give an idea of the fuel consumption that can be expected over longer journeys.
The new 12.7-litre engine retains several inherent Gardner characteristics; notable among these is its distinctive sound, especially when lugging down around 1,150rpm. Although not loud, it can be clearly heard working away. In fact, its quite low in-cab noise levels are comparable with the Caterpillar engined S108. Meter readings taken at driver's ear level and recorded at speeds of 40 to 60mph, show that sound levels ranged between 72 and 75dB(A).
At certain engine speeds a faintly audible shrillness filtered into the cab. It was difficult to pinpoint the origin, but it seemed to come from the turbocharger/exhaust pipe area. While this never reached a high level, it was distinctly discernable.
The ZF power assisted steering had plenty to do coping with the twin-steer arrangement. It was well up to the task but spoilt by a noisy fluid transfer at most engine speeds. In addition, the steering wheel gave off strong reverberations, especially when moving from the straight-ahead position at most speeds or when nearing a full lock.
Foden put this annoying effect down to a faulty Sundstrand pump. These were fitted in lieu of the normal ZF pumps which at a critical time became scarce owing to the West German metal workers' strike of last year. The faulty component has now been replaced satisfactorily with a ZF pump, says Foden.
This apart, the test vehicle gave a smooth and quiet performance at 30.39 tonnes. Its acceleration times were marginally quicker than the CAT 3306B powered Foden, helped by the lightly weighted clutch pedal and the well run in Fuller RTX11609B gearbox. A much lighter accelerator pedal return spring helped, too.
Moving from rest on flat terrain required a third, fifth gear sequence then using each ratio to top (ninth) gear. Sharper grades meant using second, fourth and fifth and so on. The severe
one in three gradients around our offroad test circuit allowed me to appreciate the Gardner's tenacity. It climbed them in third gear.
Most of the simulated site work tended to keep me just in the high range while on the main roads the vehicle maintained the maximum permitted speeds effortlessly.
Our test vehicle was also equipped with an Econocruise road-speed regulator. The main control unit being fitted on to the dash and fed electronically from the tachograph drive. It provided the driver with finger-tip control of the accelerator linkage. Four buttons gave settings of 40, 50, 60mph and a maximum speed control somewhere above this figure.
On reaching the pre-set speeds, the accelerator fell smoothly away to feed back in as the road speed dropped below the required level. The tachograph chart trace bears testimony to its effectiveness. It seemed to operate well until about halfway around our test run when the rough terrain section must have shakers it from its setting and caused a delay in its cutting back in speed.
Foden's FF20 rubber suspension arrangement coped extremely well with the worst of our off-road circuit and although the cab tended to roll about on tight corners body movement was minimal. On the main roads it handled extremely well as befitting a top performer.
The single-bunk sleeper cab is very comfortable for this type of work; it has air suspended cloth covered seats and an electric window lift. Trim colours are a mixture of light and dark browns. Neat cross and inter-axle differential lock switches are mounted beSide the instrument panel, while the tip gear operating lever is sited alongside the park brake lever on the engine cover.
As yet there is no exhaust brake available for the 6LX1)T and while the S108 brakes operated quite well, despite an annoying and occasional squeal, one ought to be a standard fitting, especially for work of any distance.
SUMMARY From the numerous engine options that arc offered with the S108, customers will find it difficult to choose one that matches the qualifications of the 270hp 6LXDT. It is the lightest of the four makes available, and the Gardner's flexibility, and fuel efficiency complements the vehicle's weightconscious build specifications.
There were noisy vibrations from the power steering and I would like an exhaust brake. But the Gardner powered Foden eight-wheeler is impressive. While, at ,c_36,400 the chassis cab is pricey, a 20.23 payload carried at an average fuel consumption of 6.14mpg around our severe tipper route gives a clue to the sort of earning qualities that will appeal to hard pressed operators.