Group seeks stronger powers for residents
11th May 1985
Page 5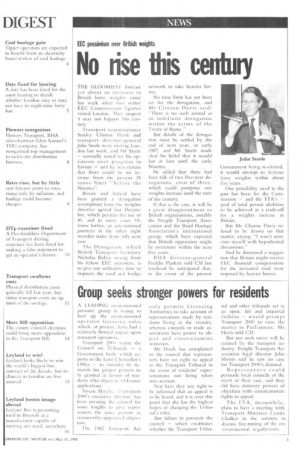 Page 5, 11th May 1985 —
Group seeks stronger powers for residents
Close
A LEADING environmental pressure group is trying to beef up the environmental operator licensing rules which, at present. have had a relatively limited impact upon transport operators.
Transport 201 I0 wants the Council on Tribunals Government body which reports to the Lord Chancellor's Office to consider its demands for greater powers to he granted in favour of residents who object to 0-licence applications.
Susan Hoyle. Transport 2000's executive director, has been pressing the council for sonic lengths to give representors the same powers as statutorily-approved objectors.
-ILhe 1982 Transport Act
only permits Licensing Authorities to take account of representations made by residents living in the vicinity, whereas councils or trade associations have power to object and cross-examine witnesses.
Ms Hoyle has complained to the council that representors have no right to appeal to the Transport Tribunal in the event of residents' representations not being taken into account.
Nor have they any right to be informed that an appeal is to be heard, and it is over this point that she has the highest hopes of changing the Tribunal's rules.
But failure to persuade the council which establishes whether the Transport Tribu nal and other tribunals act in an open, fair and impartial fashion would prompt Transport 2000 to raise the matter in Parliament, Ms Hoyle told CM.
But any such move will be resisted by the transport industry. Freight Transport Association legal director John Morris said he saw DO case for Transport 2000's demand.
Representors could persuade local councils of the merit of their case, and they did have statutory powers of objection with commensurate rights to appeal.
The ETA, meanwhile, plans to have a meeting with Transport Minister Lynda Chalker in the autumn to discuss fine-tuning of the environmental regulations,