EEC pessimism over British weights
11th May 1985
Page 5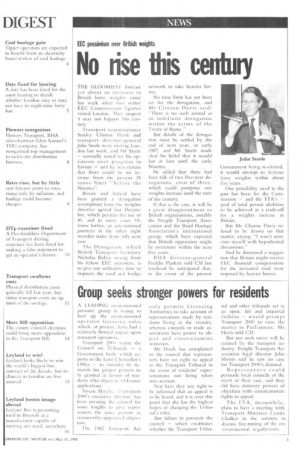 Page 5, 11th May 1985 —
EEC pessimism over British weights
Close
No Ilse this century
THE GLOOMIEST forecast yet about an increase in British lorry weights came last week when two senior EEC Commission figures visited London. They suspect it may not happen rhis century.
Transport commissioner Stanley Clinton l)avis and transport director-general John Steele were visiting London last week, and Mr Steele normally noted for his optimism over progress in Europe said he was certain that there could be no increase from the present 38 tonne. limit -before the Nineties".
Britain and Ireland have been granted a derogation (exemption) from the weights directive agreed last December, which permits the use of 40, and in sonic CASCS 44tonne lorries, on international journeys in the Other eight member states from July next year.
The Derogation. which British Transport Secretary Nicholas Ridley wrung from his fellow EEC ministers, is to give our authorities time to improve the road and bridge neo,vork to take heavier lorries.
No time limit has yet been set for the derogation, and Mr Clinton Davis said: -There is no such animal as an indefinite derogation within the terms of the Treaty of Rome.
But details of the derogation must be settled by the end of next year, or early 1987, and Mr Steele made clear his belief that it would last at least until the early Nineties.
He added that there had been talk of two five-year derogations, even of three, which could postpone any weights increase until the turn of the century.
II that is the case, it will he a great disappointment to British organisations, notably the Freight Transport Association and the Road Haulage Association's international group, which have expected that British opposition might be overcome within the neXt five years.
RHA director-general Freddie Plaskett told CM last weekend he anticipated that, in the event of the present
Government being re-elected, it would attempt to increase lorry weights within about five years.
One possibility aired in the past has been for the Com mission and the ETA's goal of total permit abolition to be achieved as a trade-off for a weights increase in Britain.
But Mr Clinton Davis refused to be drawn on that matter, saying: "I won't associate myself with hypothetical discussions."
Arid he dismissed a suggestion that Britain might receive EEC financial compensation for the increased road wear imposed by heavier lorries.