DAF
11th May 1985
Page 39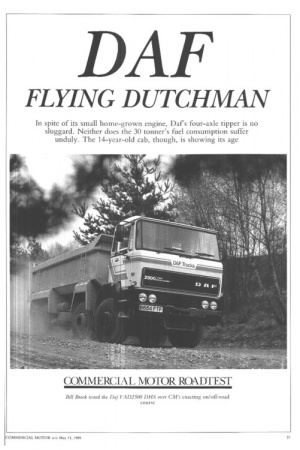 Page 40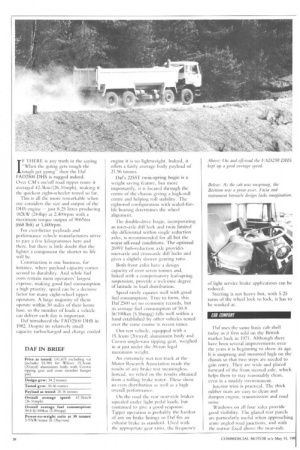 Page 41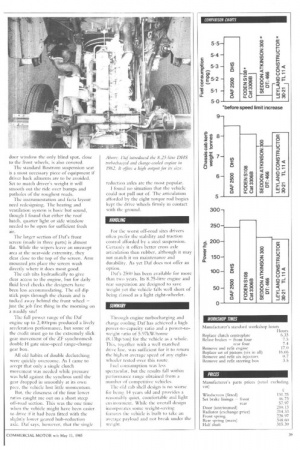 Page 39, 11th May 1985 —
DAF
Close
FLYING DUTCHMAN
In spite of its small home-grown engine, Daf's four-axle tipper is no sluggard. Neither does the 30 tonner's fuel consumption suffer unduly. The 14-year-old cab, though, is showing its age IF THERE is any truth in the saying "When the going gets tough the tough get going" then the Oaf FA02500 DHS is rugged indeed. Over CA/1's on/off road tipper route it averaged 42.3km/(26.31mph), making it the quickest eight-wheeler tested so far.
This is all the more remarkable when one considers the size and output of the DHS engine — just 8.25 litres producing 182kW (244hp) at 2,408/rpm with a maximum torque output of 906Nrn (668 lbft) at 1,600rpm.
For ever-better payloads and performance vehicle manufacturers strive to pare a few kilogrammes here and there, but there is little doubt that the lighter a component the shorter its life will be.
Construction is one business, for instance, where payload capacity comes second to durability. And while fuel costs remain most operators' largest expense, making good fuel consumption a high priority, speed can be a decisive factor for many eight-wheel tipper operators. A large majority of them operate within 50 miles of their home base, so the number of loads a vehicle can deliver each day is important.
Dal introduced the FA02500 OHS in 1982. Despite its relatively small capacity turbocharged and charge cooled engine it is no lightweight. Indeed, it offers a fairly average body payload of 21.96 tonnes.
Oafs 2255T twin-spring bogie is a weight saving feature, but more importantly, it is located through the centre of the chassis giving it high-roll centre and helping roll stability. The eight-rod configuration with sealed-forlife bearing determines the wheel alignment.
The double-drive bogie, incorporating an inter-axle dill lock and twin limited slip differential within single reduction axles, is recommended for all but the worst off-road conditions. The optional 2699T hub-reduction axle provides inter-axle and cross-Axle diff locks and gives a slightly slower gearing ratio.
Both front axles have a design capacity of over seven tonnes and, linked with a compensatory leaf-spring suspension, provide a welcome degree of latitude in load distribution.
Speed rarely equates well with good fuel consumption. True to form, this Oaf 2500 set no economy records, but its average fuel consumption of 50.8 lit/100km (5.56mpg) falls well within a band established by other vehicles tested over the same course in recent tunes.
Our test vehicle, equipped with a 15.3cum (20cuyd) aluminium body and Crown single-ram tipping gear, weighed in at just under the 30-ton legal maximum weight.
An extremely wet test track at the Motor Research Association made the results of any brake test meaningless. Instead, we relied on the results obtained from a rolling brake tester. These show an even distribution as well as a high overall performance.
On the road the rear near-side brakes squealed under light pedal loads, but continued to give A good response. Tipper operation is probably the hardest of any on brake linings so Dal fits an exhaust brake as standard. Used with the appropriate gear ratio, the frequency of light service brake applications can be reduced.
Steering is not heavy but, with 5.25 turns of the wheel lock to lock, it has to be worked at.
CAB COMFORT Oaf uses the same basic cab shell today as it first sold on the British market back in 1971. Although there have been several improvements over the years it is beginning to show its age. It is unsprung and mounted high on the chassis so that two steps are needed to gain entry. They are wide and placed forward of the front steered axle, which helps them to stay reasonably clean, even in a muddy environment.
Interior trim is practical. The thick rubber mats are easy to clean and dampen engine, transmission and road noise.
Windows on all four sides provide good visibility. The glazed rear panels are particularly useful when approaching acute angled road junctions, and with the mirror fixed above the near-side door window the only blind spot, close to the front wheels, is also covered.
The standard Bostrom suspension seat is a most necessary piece of equipment if driver back ailments are to he avoided. Set to match driver's weight it will smooth out the ride over bumps and potholes of the roughest roads.
The instrumentation and facia layout need redesigning. The heating and ventilation system is basic but sound, though I found that either the roof hatch, quarter light or side window needed to be open for sufficient Fresh • air.
The larger section of Daf's front screen (made in three parts) is almost flat. While the wipers leave an unswept area at the near-side extremity, they clear close to the top of the screen. Arm mounted jets place the screen wash directly where it does most good.
The cab tilts hydraulically to give clear access to the engine, but for daily flind level checks the designers have been less accommodating. The oil dip stick pops through the chassis and is tucked away behind the front wheel — just the job first thing in the morning on a muddy site!
The full power range of the Daf engine up to 2,400rpm produced a lively acceleration performance, but some of the credit must go to the extremely slick gear movement of the ZF synchromesh double H gate nine-speed range-change gear box.
All old habits of double declutching were quickly overcome. As I came to accept that only a single clutch movement was needed while pressure was held against the synchros until the gear dropped in smoothly at its own pace, the vehicle lost little momentum.
But, the closeness of the four lower ratios caught me out on a short steep off-road section. This was the one rime when the vehicle might have been easier to drive if it had been fitted with the slightly lower geared hub-reduction axle. Dal says, however, that the single
reduction axles are the most popular.
I found no situation that the vehicle could not pull out of The articulation afforded by the eight torque rod bogies kept the drive wheels firmly in contact with the ground.
HANDLING For the worst off-road sites drivers often prefer the stability and traction control afforded by a steel suspension. Certainly it offers better cross axle articulation than rubber, although it may not match it on maintenance arid durability. As yet Daf does not offer an option.
Dat's 2500 has been available for more than two years. Its 8.25-litre engine and rear suspension are designed to save weight vet the vehicle falls well .short of being classed as a light eight-wheeler.
SUMMARY
Through engine turbocharging and charge cooling Daf has achieved a high power-to-capacity ratio and a power-toweight ratio of 5.97kW/tonne (8.13hp/ton) for the vehicle as a whole. This, together with a well matched drive line, was sufficient for it to return the highest average speed of any eightwheeler tested over this route.
Fuel COI1S1.1 m p don was less
spectacular, but the results fall within performance range obtained from number of competitive vehicles.
The old cab shell design is no worse for being 14 years old and provides a reasonably quiet, comfortable and light environment. While the overall design incorporates some weight-saving features the vehicle is built to take an average payload and not break under the wei?-ht.