BIRD'S-EYE VIEW
11th May 1985
Page 36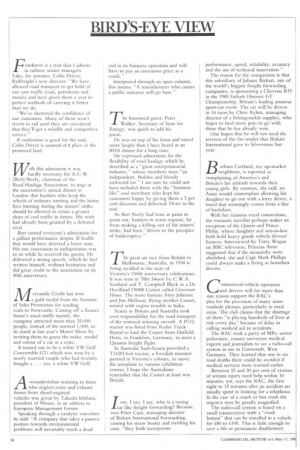 Page 36, 11th May 1985 —
BIRD'S-EYE VIEW
Close
Frankness is a trait that I admire in railway senior managers. Take, for instance, Colin Driver, Railfreight's new director: "We have allowed road transport to get hold of OUT core traffic (coal, petroleum and metals) and have given them a year to perfect methods of carrying it better than we do.
"We've shattered the confidence of our customers. Many of them won't revert to rail until they are convinced that they'll get a reliable and competitive service.
If confession is good for the soul, Cohn Driver is assured of place in the promised land.
With this admission it was hardly necessary for A.C.W. (Bert) Neely, chairman of the
Road Haulage Association, to urge at the association's annual dinner in London that hauliers who keep the wheels of industry turning and the home fires burning during the miners' strike should be allowed to retain a greater share of coal traffic in future. His wish had already been granted by a defeated rival.
Bert earned everyone's admiration for a gallant performance despite ill health that would have deterred a lesser man. His one concession to indisposition was to sit while he received the guests. He delivered a strong speech, which he had written himself, without hesitation and did great credit to the association on its 40th anniversary.
Mercantile Credit has won a gold medal from the Institute of Sales Promotion for sending coals to Newcastle. Casting off a finance house's usual stuffy mantle, the company attracted more than 35,000 people, instead of the normal 1,000, to its stand at last year's Motor Show by inviting them to guess the make, model and colour of a car in a crate.
It turned out to be a white VW Golf Convertible GTi which was won by a newly married couple who had recently bought a . . . yes, a white VW Golf.
21 sesquipedalian warning to those who neglect noise and exhaust fumes from diesel-engined
vehicles was given by Takashi Ishihara, president of Nissan, in an address to European Management Forum.
Speaking through a catalytic converter he said: "A company that takes a passive posture towards environmental problems will invariably reach a dead end in its business operation and will have to pay an enormous price as a result."
Interpreted through an open exhaust, this means: "A manufacturer who causes a public nuisance will go bust."
The honoured guest, Peter Walker, Secretary of State for Energy, was quick to add his
paean.
He was on top of his form and raised more laughs than I have heard at an RHA dinner for a long time.
He expressed admiration for the flexibility of road haulage which he described as a "great entrepreneurial industry," whose members were "an independent, Bolshie and bloody awkward lot." I am sure he could not have included them with the "business like" coal merchant who kept his customers happy by giving them a 5 per cent discount and delivered 19cwt to the ton!
As Bert Neely had been at pains to point out, hauliers in some regions, far from making a killing out of the miners' strike, had been "driven to the precipice of bankcruptcy."
Prhe great air race from Britain to Melbourne, Australia, in 1934 is being recalled in the state of Victoria's 150th anniversary celebrations. It was won in 70hr 54min by C.W.A. Scotland and T. Campbell Black in a De Havilland DH88 Comet called Grosvenor House. The more famous Amy Johnson and Jim Mellison, flying another Comet, retired with engine trouble in India.
Scania in Britain and Australia took over responsibility for the road transport of the restored winning aircraft. A P112 tractor was hired from Ryder Truck Rental to haul the Comet from Hatfield, Herts, to Frankfurt, Germany, to meet a Quantas freight flight.
In Australia Saab-Scania provided a T142H 6x4 tractor, a Swedish monster painted in Victoria's colours, to move the aeroplane to various exhibition centres. I hope the Australians remember that the Cornet at least was British.
icasay, I say, I say, why is a racing r like freight forwarding? Because, says Peter Cant, managing director of Birk art International Forwarding, canting his straw boater and twirling his cane, "they both incorporate
performance, speed, reliability, accuracy and the use of technical innovation."
The reason for the comparison is that this subsidiary of Johann Birkart, one of the world's biggest freight forwarding companies, is sponsoring a Chevron B19 in the 1985 Failsafe Historic GT Championship, Britain's leading amateur sport-car event. The car will be driven in 14 races by Chris Aylett, managing director of a fishing-tackle supplier, who hopes to land more pots to go with those that he has already won.
One hopes that he will not need the services of the fire tender that Birkart International gave to Silverstone last year.
Barhara Cartland, my up-market neighbour, is reported as complaining of America's and
Britain's lax attitude towards their young girls. By contrast, she said, no Asian would contemplate allowing his daughter to go out with a lorry driver, a breed that seemingly comes from a line of bachelors.
With her tenuous royal connections, the romantic novelist perhaps makes an exception of the Queen and Prince Philip, whose daughter and son-in-law both hold heavy goods vehicle drivers' licences. Interviewed by Terry Wogan on BBC television, Princess Anne suggested that if the monarchy were abolished, she and Capt Mark Phillips could always make a living as horsebox drivers.
Commercial-vehicle operators and drivers will for more than one reason support the RAC's plea for the provision of many more roadside phones, particularly in rural areas. The club claims that the shortage of them "is placing hundreds of lives at risk every day" because of delay in calling medical aid to accidents.
The RAC took a party of MPs, senior policemen, county surveyors medical experts and journalists to see a radio-call system in use in Darmstadt, West Garmany. They learned that one in six road deaths there could be avoided if medical services were warned earlier.
Between 15 and 20 per cent of victims of serious injury need help within 10 minutes, yet, says the RAC, the first eight to 15 minutes after an accident are usually spent in looking for a telephone. In the case of a coach or bus crash the urgency may be greatly magnified.
The radio-call system is based on a small trans receiver with a "crash button" that can be installed in a vehicle for £80 to S:100. This is little enough to save a life or permanent disablement.
Tags
People
:
Terry Wogan
,
C.W. (Bert) Neely
,
Amy Johnson
,
Colin Driver
,
Railfreight
,
Chris Aylett
,
Jim Mellison
,
Philip
,
Anne
,
Peter Cant
,
Mark Phillips
,
Peter Walker
,
Takashi Ishihara