SUPPORT THE TRUCKERS CLUBS
11th May 1985
Page 34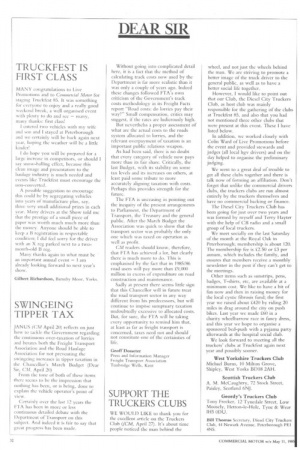 Page 34, 11th May 1985 —
SUPPORT THE TRUCKERS CLUBS
Close
WE WOULD LIKE to thank you for the excellent article on the Truckers Club ((CM, April 27). It's about time people noticed the man behind the
wheel, and not just the wheels behind the man. We are striving to promote a better image of the truck driver to the general public, as well as to have a better social life together.
However, I would like to point out that our Club, the Diesel City Truckers Club, as host club was mainly responsible for the gathering of the clubs at Truckfest 85, and also that you had not mentioned three other clubs that were present at this event. These I have listed below.
In addition, we worked closely with Colin Ward of Live Promotions before the event and provided stewards and judges (all local hgv drivers) and on the day helped to organise the preliminary judging.
We went to a great deal of trouble to get all these clubs together and there is talk now of forming an affiliation. Don't forget that unlike the commercial drivers clubs, the truckers clubs are run almost entirely by the truckers themselves and have no commercial backing or finance.
The Diesel City Truckers Club has been going for just over two years and was formed by myself and Terry Hayter with the help of CB radio and a small group of local truckers.
We meet socially on the last Saturday of the month at the Royal Oak in Peterborough; membership is about 120.
The membership fee is £2.50 or per annum, which includes the family, and ensures that members receive a monthly newsletter in the post if they can't get to the meetings.
Other items such as sunstrips, pens, badges, T-shirts, etc, are available at a minimum cost. We like to have a bit of fun now and then in raising money for the local cystic fibrosis fund; the first year we raised about £420 by riding 20 miles in drag around the city on push bikes. Last year we made £60 in a charity wheelbarrow race in fancy dress, arid this year we hope to organise a sponsored bed-push with a pyjama party afterwards at the hospital social club.
We look forward to meeting all the truckers' clubs at Truckfest again next year and possibly sooner.
West Yorkshire Truckers Club Michael Burns, 10 Milton Grove, Shipley, West Yorks BD18 2AH_ Scottish Truckers Club
A. M. McCaughtry, 72 Stock Street, Paisley, Scotland 6NJ.
Geordy's Truckers Club Tony Frecker, 12 Tynedale Street, Low Moosely, Hetton-le-Hole, Tyne & Wear IH5 ODU.
Bill Thomas Secretary, Diesel City Truckers Club, 44 Newark Avenue, Peterborough PEI 4NS.