BURSTING SHOW
11th May 1985
Page 28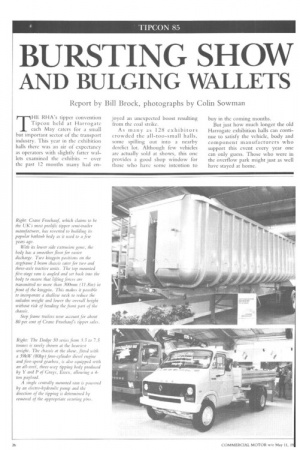 Page 28, 11th May 1985 —
BURSTING SHOW
Close
AND BULGING WALLETS
Report by Bill Brock, photographs by Colin Sowman
THE RHA's tipper convention Tipcon held at Harrogate each May caters for a small but important sector of the transport industry. This year in the exhibition halls there was an air of expectancy as operators with slightly fatter wallets examined the exhibits — over the past 12 months many had en joyed an unexpected boost resulting from the coal strike.
As many as 128 exhibitors crowded the all-too-small halls, some spilling out into a nearby derelict lot. Although few vehicles are actually sold at shows, this one provides a good shop window for those who have some intention to buy in the coming months.
But just how much longer the old Harrogate exhibition halls can continue to satisfy the vehicle, body and component manufacturers who support this event every year one can only guess. Those who were in the overflow park might just as well have stayed at home.