SMOKE SIGNALS FOR DERV CUTS
11th May 1985
Page 25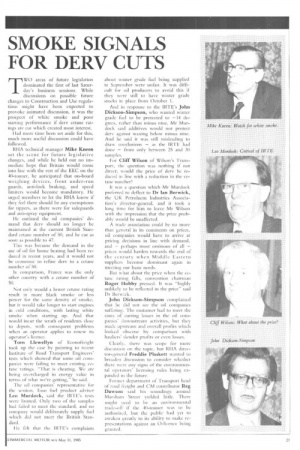 Page 25, 11th May 1985 —
SMOKE SIGNALS FOR DERV CUTS
Close
TWO areas of future legislation dominated the first of last Saturday's business sessions. While discussions on possible future changes to Construction and Use regulations might have been expected to provoke animated discussion, it was the prospect of white smoke and poor starting performance if dery cetane ratings are cut which created most interest.
Had more time been set aside for this, much more useful discussion could have followed.
RHA technical manager Mike Kneen set the scene for future legislative changes, and while he held out no immediate hope that Britain would come into line with the rest of the EEC on the 40-tonner, he anticipated that on-board weighing devices, front under-run guards, anti-lock braking, and speed limiters would become mandatory. He urged members to let the RHA know if they feel there should be any exemptions for tippers, as there were for sideguards and anti-spray equipment.
He outlined the oil companies' demand that dery should no longer be maintained at the current British Standard cetane number of 50, and be cur as soon as possible to 47.
This was because the demand in the use of oil for home heating had been reduced in recent years, and it would not be economic to refine dery to a mane number of 30.
In comparison, France was the only other country with a cetane number of 50.
Not only would a lower cetane rating result in more black smoke or less power for the same density of smoke, but it would take longer to start engines in cold conditions, with lasting white smoke when starting up. And that would incur the wrath of residents close to depots, with consequent problems when an operator applies to renew its operator's licence.
Tom Llewellyn of Econofreight took up the case by pointing to recent Institute of Road Transport Engineers' tests which showed that some oil companies were failing to meet existing ceune ratings. -That is cheating. We are being overcharged in energy value in terms of what we're getting," he said.
The oil companies' representative for the session, Esso fuel product adviser Leo Murdock, said the IRTE's tests were limited. Only two of the samples had failed to meet the standard, and no company would deliberately supply fuel which did not meet the British Standard.
He felt that the IRTE's complaints about winter grade fuel being supplied in September were unfair. It was difficult for oil producers to avoid this it they were still to have winter grade stocks in place from October 1.
And in response to the 1RTE's John Dickson-Simpson, who wanted winter grade fuel to be protected to —14 degrees, rather than minus nine, Mr Murdock said additives would not protect dery against waxing below minus nine. And be said it was still misleading to draw conclusions — as the IRTE had done — from only between 25 and 30 samples.
For Cliff Wilson of Wilson's Transport, the question was nothing if not direct; would the price of dery be reduced in line with a reduction in the cctam' number?
It was a question which Mr Murdock preferred to deflect to Dr Ian Berwick, the UK Petroluem Industries Association's director-general, and it took a long time for hint to leave Mr Wilson with the impression that the price probably would be unaffected.
A trade association could be no more than general in its comments on prices, oil companies would have to arrive at pricing decisions in line with demand, and — perhaps most ominous of all — prices would harden towards the end of the century when Middle Eastern suppliers become dominant again in meeting our basic needs.
But what about the price when the cctam: rating falls, convention chairman Roger Hobby pressed, It was "highly unlikely to be reflected in the price" said Dr Berwick.
John Dickson-Simpson complained that he did not see the oil companies suffering. The customer had to meet the Costs of cutting losses in the oil companies' downstream activities, but they made upstream and overall profits which looked obscene by comparison with hauliers' slender profits or even losses.
Clearly, there was scope for more discussion on the topic, but RI-1A director-general Freddie Plaskett wanted to broaden discussion to consider whether there were any signs of the environmental operators' licensing rules being expanded in the future.
Former department of Transport head of road freight and CM contributor Reg Dawson said his soundings around Marsham Street yielded little. There might need to be an environmental trade-oft if the 40-tonner was to be authorised, but the public had yet to awaken greatly to its ability to make representations against an 0-licence being granted.