UNIONS DID 'STUPID' THINGS
11th May 1985
Page 24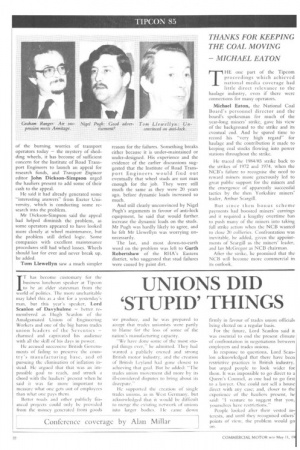 Page 24, 11th May 1985 —
UNIONS DID 'STUPID' THINGS
Close
IT has become customary for the business luncheon speaker at Tipcon to he an elder statesman from the world of politics. The more uncharitable may label this as a slot for a yesterday's man, but this year's speaker, Lord Scanlon of Davyhulme better remembered as Hugh Scanlon of the Amalgamated Union of Engineering Workers and one of the big baron trades union leaders of the Seventies charmed and captivated his audience with all the skill of his days in power.
He accused successive British Governments of failing to preserve the country's manufacturing base, and or pursuing the elimination of inflation instead. He argued that that was an impossible goal to reach, and struck a chord with the hauliers' present when he said it was far more important to measure what one gets out of employees than what one pays them.
Better roads ii-icl other publicly financed projects could only be provided from the money generated from goods we produce, and he was prepared to accept that trades unionists were partly to blame for the loss of sonic of the nation's manufacturing capacity.
"We have done some of the most stupid things ever," he admitted. They had wanted a publicly owned and strong British motor industry, and the creation of British Leyland had gone closest to achieving that goal. But he added: "The trades union movement did more by its ill-considered disputes to bring about its disrepute."
He supported the creation of single trades unions, as in West Germany, but acknowledged that it would be difficult to merge the existing network of unions into larger bodies. I le came down firmly in favour of trades union officials being elected on a regular basis.
For the future, Lord Scanlon said it was essential to end the present climate of confrontation in negotiations between employers and trades unions.
In response to questions, Lord Scanlon acknowledged that there have been restrictive practicesin British industry, but urged people to look wider for them. It was impossible to go direct to a Queen's Counsel, as one had to go first to a lawyer. One could not sell a house direct with any ease; and, closer to the experience of the hauliers present, he said: "I venture to suggest that you, yourselves have restrictions.
People looked after their vested interests, and until they recognised others' points of view, die problem would go on