THANKS FOR KEEPING THE COAL MOVING — MICHAEL EATON
11th May 1985
Page 24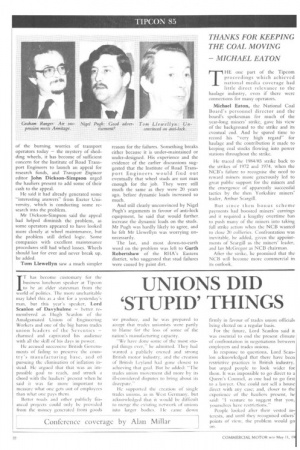 Page 24, 11th May 1985 —
THANKS FOR KEEPING THE COAL MOVING — MICHAEL EATON
Close
THE one part of the Tipcom proceedings which achieved national media coverage had little direct relevance to the haulage industry, even if there were connections for many operators.
Michael Eaton, the National Coal Board's personnel director and the board's spokesman for much of the year-long miners' strike, gave his view of the background to the strike and its eventual end. And he spared time to record his "very high regard" for haulage and the contribution it made to keeping coal stocks flowing into power stations throughout the strike.
He traced the 1984/85 strike back to the strikes of 1972 and 1974, when the NCB's failure to recognise the need to reward miners more generously led to great public support for the miners and the emergence of apparently successful tactics by the then Yorkshire miners' leader, Arthur Scargill.
But since then bonus scheme payments had boosted miners' earnings and it required a lengthy overtime ban to push many of the miners into taking full strike action when the NCB wanted to close 20 collieries. Confrontation was inevitable, he added, given the appointments of Scargill as the miners' leader, and tan McGregor as NCB chairman.
After die strike, he promised that the NC:B will become more commercial in its outlook.