Operator's cut from three to one
11th May 1985
Page 18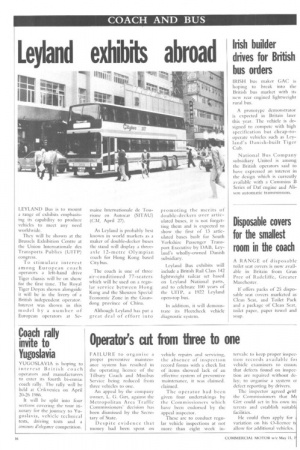 Page 18, 11th May 1985 —
Operator's cut from three to one
Close
FAILURE to organise a proper preventive maintenance system has resulted in the operating licence of the Tilbury Coach and Minibus Service being reduced from three vehicles to one.
An appeal by the company owner, L. G. Girt, against the Metropolitan Area Traffic Commissioners' decision has been dismissed by the Secretary of State.
Despite evidence that money had been spent on vehicle repairs and servicing, the absence of inspection record forms with a check list of items showed lack of an effective system of preventive maintenance, it was claimed. claimed.
The operator had been given four undertakings by the Commissioners which have been endorsed by the appeal inspector.
These are to conduct regular vehicle inspections at not more than eight week in
tervals: to keep proper inspection records available foi vehicle examiners to ensun that defects found on inspection are repaired without delay; to organise a system 01 defect reporting by drivers.
The inspector agreed .vitkthe Commissioners that MI Girt could act in his own in wrests and establish suitabl facilities.
He could then apply for variation on his 0-licence allow for additional vehicles.