lance's bill obstade
11th May 1985
Page 16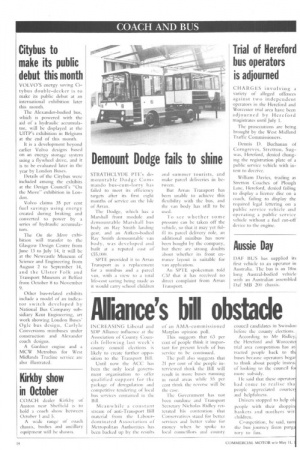 Page 16, 11th May 1985 —
lance's bill obstade
Close
INCREASING Liberal and SDP Alliance influence at the Association of County COLIII(ids following last week's county council elections is likely to create further opposition to the Transport Bill.
Until now the ACC has been the only local government organisation to offer qualified support for the package of deregulation and competitive tendering of local bus services contained in the Bill.
Meanwhile a constant stream of anti-Transport Bill material from the Labourdominated Association of Metropolitan Authorities has been backed up by the results of an AMA-commissioned Marplan opinion poll.
This suggests that 63 per cent of people think it important for present levels of bus service to be continued.
The poll also suggests that 21 per cent of the people interviewed think the Bill will result in more buses running in rural areas while 55 per cent think the reverse will be the case.
'Hie Government has not been outdone and Transport Secretary Nicholas Ridley reiterated his contention that Conservatives stand for better services and better value for money when he spoke to local councillors and county council candidates in Swindmi before the county elections.
According to Mr Ridley the Hereford and Worceste trial area competition has at tracted people back to th buses because operators begat to think about people instea of looking to the council fo more subsidy.
I le said that these operator had come to realise tha people appreciated courtes and helpfulness.
Drivers stopped to help ol people with their shoppin baskets and mothers wit children.
Cc in petition, he said, tun the bus journey from purg, tory to fut.].