Backstop rumpus
11th May 1985
Page 15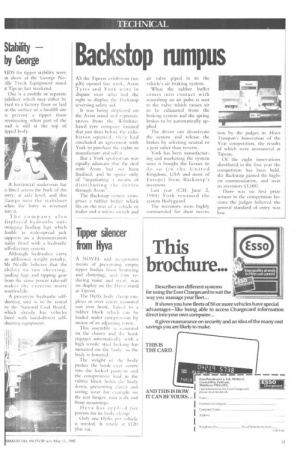 Page 15, 11th May 1985 —
Backstop rumpus
Close
AS the Tipcon exhibition (see p26) opened last week, Avon Tyres and York were in dispute over who had the right to display the Backstop reversing safety aid.
It was being displayed on the Avon stand and representatives from the Wiltshirebased tyre company insisted that just days bcfOre the exhibition opened, they had concluded an agreement with York to purchase the rights to manufacture and sell it
But a York spokesman was equally adamant that the deal with Avon had inq been finalised, and he spoke only of "negotiating a IlleThs of distributing the device through Avon-.
The Backstop system comprises a rubber buffer which fits on the rear of a vehicle or trailer and a micro switch and air valve piped in to the vehicle's air braking system.
When the rubber buffer comes into contact with something an air pulse is sent to the valve which causes air to be exhausted from the braking system and the spring brakes to be automatically applied.
The driver can de-activate the system and release the brakes by selecting neutral or a gear other than reverse.
York has been manufacturing and marketing the system since it bought the licence to do so (in the United Kingdom, USA irid most of Europe) from Backstop's inventors.
Last year (CM, June 2, 1984) York renamed the system Bodyguard.
The inventors were highly commended for their inven
tion by the judges in Motor Transport's Innovation of the Year competition, the results of which were announced at Tipcon.
Of the eight innovations shortlisted in the first year the competition has been held, the Backstop gained the highest commendation, and won its inventors .0,000.
There was no first prize winner in the competition because the judges believed the general standard of entry was low.