nia goes stateside
11th May 1985
Page 14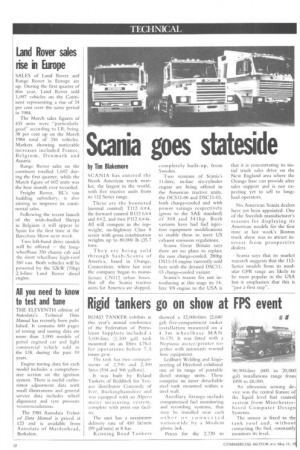 Page 14, 11th May 1985 —
nia goes stateside
Close
by Tim Blakemore
SCANIA has entered the North American truck market, the largest in the world, with five tractive units from its 112 Series range.
These are the bonneted (normal control) T112 6x4, the forward control R112 6x4 and 4x2, and two P112 6x4s. All will compete in the topweight, on-highway Class 8 sector with gross combination weights up to 80,000 lb (35.7 tons.
They are being sold -through Saab-Scania of America, based in Orange, Connecticut, where last year the company began to manufacture CN112 urban buses. But all the Scania tractive units for America are shipped,
completely built-up, from Sweden.
Two versions of Scania's 11-litre, in-line six-cylinder engine arc being offered in the American tractive units, the DCS11-06 and DSC11-03, both charge-cooled and with power ratings respectively (gross to the SAE standard) of 308 and 341hp. Both variants have had fuel injection equipment modifications to enable them to meet US exhaust emission regulations.
Scania Great Britain says there are no plans to replace the non charge-cooled, 280hp DS11-14 engine currently sold here with the derated DSC1103 charge-cooled variant.
Scania's reason for not introducing at this stage its 14litre V8 engine to the USA is that it is concentrating its initial truck sales drive on the New England area where the Orange base can provide after sales support and is not expecting yet to sell to longhaul operators.
No American Scania dealers have yet been appointed. One of the Swedish manufacturer's reasons for displaying its American models for the first time at last week's Boston truck show was to attract interest from prospective dealers.
Scania says that its market research suggests that the 112Series models from its modular GPR range are likely to be most popular in the USA but it emphasises that this is "just a first step".