PDM costs fall
11th May 1985
Page 13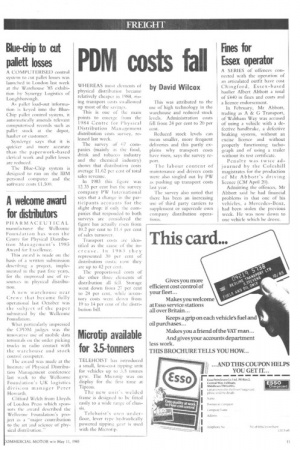 Page 13, 11th May 1985 —
PDM costs fall
Close
by David Wilcox
WHEREAS most elements of physical distribution became relatively cheaper in 1984, rising transport costs swallowed up most of the sayings.
This is one of the main points to emerge iron] the 1984 Centre for Physical Distribution Management distribution costs survey, released last week.
The survey of 67 companies (mainly in the food, drink and tobacco industry and the chemical industry) shows that distribution costs average 11.62 per cent of total sales revenue.
In 1983 this figure was 12.33 per cent but the survey company PW International says that a change in the participants accounts for the slight drop: if only the companies that responded to both surveys are considered the figure has actually risen from 10.2 per cent to 11.4 per cent of sales turnover.
Transport costs .ire identified as the cause of the increase. In 1983 they represented 30 per cent of distribution costs; l:ow they arc up to 42 per cent.
The proportional costs of the other three elements of distribution all fell. Storage went down from 27 per cent to 24 per cent, while inventory costs went down from 19 to 14 per cent or the distribution bill. This was attributed to the use of high technology in the warehouse and reduced stock levels. Administration costs fell from 24 per cent to 20 per Cent.
Reduced stock levels can mean smaller, more frequent deliveries and this partly explains why transport costs have risen, says the survey report.
The labour content of maintenance and drivers costs were also singled out by PW as pushing up transport costs last year.
The survey also noted that there has been an increasing use of third party carriers to supplement or supercede own company distribution operations.