Dip examiner fined
11th May 1985
Page 12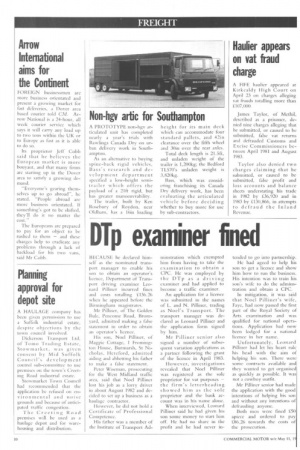 Page 12, 11th May 1985 —
Dip examiner fined
Close
BECAUSE he declared himself as the nominated transport manager to enable his son to obtain an operator's licence, Department of Transport driving examiner Leonard Pilliner incurred fines and costs totalling 8:136.26 when he appeared before the Birmingham magistrates,
Mr Pilliner, of The Golden Rule, Pencome Road, Bromyard, admitted making a false statement in order to obtain an operator's licence.
His son, Noel Pilliner, of Magpie Cottage, 1 Fromington House, Burmarsh, St Nicholas, Hereford, admitted aiding and abbetting his father to make a false statement.
Peter Wiseman, prosecuting for the West Midland traffic area, said that Noel Pilliner lost his job as a lorry driver in about August 1982 and decided to set up a business as a haulage contractor.
However, he did not hold a Certificate of Professional Competence.
His father was a member of the Institute of Transport Ad
minstration which exempted him from having to take the examination to obtain a CPC. He was employed by the DTp as a driving examiner and had applied to become a traffic examiner.
An application for a licence WAS submitted in the names of L. and N. Pilliner, trading as Noel's Transport. The transport manager was declared as Leonard Pilliner and the application form signed by him.
Mr Pilliner senior also signed a number of subsequent variation applications as a partner following the grant of the licence in April 1983,
However, investigations revealed that Noel Pilliner was registered as the sole proprietor for vat purposes — the firm's letterheading showed him As the sole proprietor and the bank account was in his name alone.
When interviewed, Leonard Pilliner said he had given his son some money to start him off. He had no share in the profit and he had never in tended to go into partnership.
He had agced to help his son to get a licence and show him how to run the business. His intention was to train his son's wife to do the admins[ration and obtain a CPC.
In mitigation, it was said that Noel Pilliner's wife, Faye, had now passed the first part of the Royal Society of Arts examination and was qualified for national operations. Application had now been lodged for a national licence in her name.
Unfortunately, Leonard Pilliner had let his heart rule his head with the aim of helping his son. There were some contracts available and they wanted to get organised as quickly as possible. It was not a cowboy outfit.
Mr Pilliner senior had made the application with the good intentions of helping his son and without any intentions of defrauding anyone.
Both men were fined 8:50 apiece and ordered to pay ..86.26 towards the costs of the prosecution.