Ferrymen hit back
11th May 1985
Page 11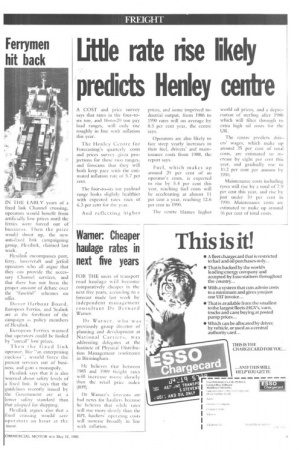 Page 11, 11th May 1985 —
Ferrymen hit back
Close
IN THE _EARLY years of a fixed link Channel crossing, operators would benefit from artificially low prices until the ferries were forced out of business. Then the price would shoot up, the new anti-fixed link campaigning group, Flexilink, claimed last week.
Flexilink encompasses port, ferry, hovercraft and jetfoil operators who all argue that they Can provide the necessary Channel services, and that there has not been the proper amount of debate over the -fanciful" schemes on offer.
Dover Ilarbour Board, European Ferries, and Sealink are at the forefront of the campaign as policy members of Flexilink.
European Ferries warned that operators could be fooled by "unreal" low prices.
Then the fixed link operator, like "an enterprising cuckoo", would force the present services out of business, and gain a monopoly.
Flexilink says that it is also worried about safety levels of a fixed link. It says that the guidelines recently issued by the Goverliment are at a lower safety standard than that adopted for shipping.
Flexilink argues also that a fixed crossing would save operators an hour at the most