FREIGHT EXCHANGE DEVELOPMENTS IN NOTTINGHAM.
11th May 1920
Page 8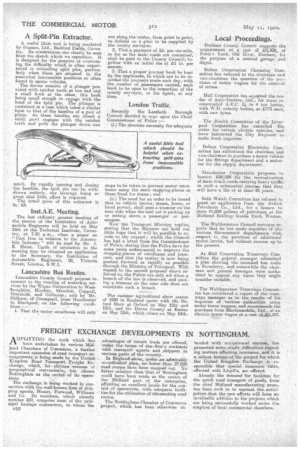 Page 8, 11th May 1920 —
FREIGHT EXCHANGE DEVELOPMENTS IN NOTTINGHAM.
Close
AMPLIFYING the work -which has been undertaken by various Midland Chambers of Commerce, a further important extension of road transport ars rangements is being made by the United Kingdom Road Transport Freight Exchange, which, for obvious reasons of geographical convenienee, has chosen Nottingham as the centre of its operations.
The exchange is being worked in connection with the well-known firm of shipping agents, Messrs. Forwood, Williams and Co. Its members, which already number 500, comprise most of the principal haulage contractors, to whom the 010 advantages of return loads are offered, under the terms of the.firm's contracts with transport agents and ,shippers in various parts ef the country.
In England alone, under .an admirably co-ordinated plan, no fewer than 27,000 road routes have been mapped out. No better -solution than -that of Nottingham could have been made as the centre of the Midland part of the enterprise, affording an excellent locale for the control of operations, with adequate facilities•for the utilization of intersecting road routes.
The Nottingham Chamber of Commerce project, which has been otherwise at
tended with'unequivocal success, has presented some slight difficulties regarding matters affecting insurance, and it is a -salient feature of the project for which the United Kingdom Exchange is responsible that special insurance rates, effected with Lloyd's, are offered.
Already the demand for facilities for the quick road transport of goods, from the chief Midland manufacturing areas, has been such as to warrant the. anticipation.that the new efforts will form an invaluable addition to the projects Which are being successfully worked under the auspices of local commercial chambers.