ONE HEARS
11th May 1920
Page 3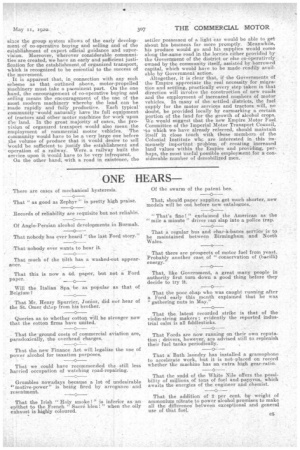 Page 3, 11th May 1920 —
ONE HEARS
Close
There are eases of mechanical hysteresis.
That " as good as Zephyr is pretty high praise.
Records of reliability are requisite but not reliable.
Of Anglo-Persian alcohol developments in Burmah.
That nobody has ever hear'd "the last Ford story."
That nobody ever wants to hear it.
That much of the tilth has a washed-out appearance, That this is now a 4d. paper, but not a Ford paper.
Will the Italian Spa be as popular . as that of Belgium?
That Mr. Henry Spurrier, Junior, did not hear of the St. Omer di..*.op from his brother.
Queries as to whether cotton Will be stronger now that the cotton firms have united.
• That the ground costs of commercial aviation are, paradoxically, the overhead charges.
That the new Finance Act will legalize the use of power alcohol for taxation purposes.
That we could have recommended the still less harried occupation of watching road-repairing.
Grumbles nowadays because a lot of undesirable "motive-power" is being fired by arrogance and resentment.
That the Irish "Holy smoke ! " is inferior as -an epithet to the French " Sacre bleu t" when the, oily exhaust is highly coloured. Of the swarm of the patent bee.
That; should paper supplies get much shorter, new Models will be out before new catalogues.
"That's fine! " exclaimed the American as the "mile a minute" driver ran slap into a police trap.
That a regular bus and char-A-banes service is to be maintained between Birmingham and North Wales.
That there are prospects of motor fuel from yeast. Probably another case of " conservation of (bacilli) energy.'
That, like Government, a great many people in authority first turn down a good thing before they decide to try it.
That. the poor chap who was caught running after a Ford early this month ex,plained that he was • " gathering nuts in May."
That the latest recorded strike is that of the violin-string makers ; evidently the reported industrial calm is all fiddlesticks.
That Fords are now running on their own reputa, tion ; drivers, however, are advised still to replenish their fuel tanks periodically.
That a' Bath latindry has installed a gramophone to accelerate work, but it is not -placed on record whether the machine has an extra high gear-ratio.
That the sudd of the White Nile offers the possibility of millions of tons of fuel and-papyrus, which awaits the energies of the engineer and chemist.
That the addition of 2 per cent. ■lay weight of ammonium nitrate to power alcohol promises to make all the difference: between exceptional and general use of that fuel.