One Hears
11th May 1911
Page 2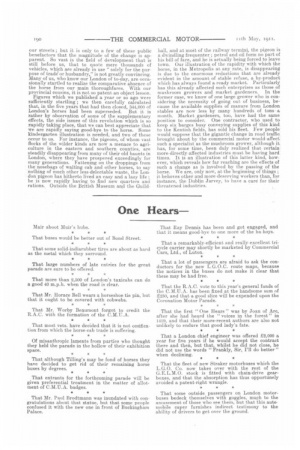 Page 3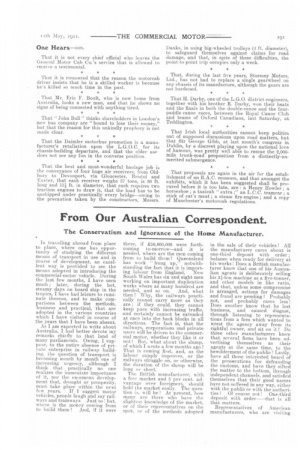 Page 2, 11th May 1911 —
One Hears
Close
Mair aboot Muir's hubs.
That buses would be better out of Bond Street.
That some solid-indiarubber tires are about. as hard as the metal which they surround.
That large numbers of late entries for the great parade are sure to be offered.
That more than 2,500 of London's taxicabs can do a good 40 m.p.h. when the road is clear.
That Mr. Horace Bell wears a horseshoe tie pin, but that it ought to be covered with cobwebs.
That Mr. Worby Beaumont forgot to credit the R.A.C. with the formation of the C.M.r.A.
That most vets, have decided that it is not ossfficaHon from which the horse-cab trade is suffering.
Of misanthropic laments from parties who thought they held the parade in the hollow of their exhibition space.
That although Tilling's may be fond of horses they have decided to get rid of their remaining horse buses by degrees.
That entrants for the forthcoming parade will be given preferential treatment in the matter of allotment of C.M.U.A. badges.
That Mr. Paul Brodtmann was inundated with congratulations about that statue, but that some people confused it with the new one in front of Buckingham Palace.
That Ray Dennis has been and got engaged, and that it means good-bye to one more of the ba-hoys.
That a remarkably-efficient and really-excellent tricycle carrier may shortly be marketed by Commercial Cars, Ltd., of Luton.
That a lot of passengers are afraid to ask the conductors for the new L.G.O.C. route maps, because the notices in the buses do not make it clear that these may be had free.
That the R.A.C. vote to this year's general funds of the C. M.1.7.A. has been fixed at the handsome sum of £250, and that a good slice will be expended upon the Coronation Motor Parade.
That the first "One Hears" was by Joan of Arc, after she had heard the "voices in the forest" in 1419, and that their more-recent authors are also not unlikely to endure that good lady's fate.
That a London chief engineer was offered 22,000 a year for five years if he would accept the contract there and then, but that, whilst he did not close, he did not use the words "Frankly, Sir, I'll do better" when declining.
That the fleet of new Straker motorbuses which the L.G.O. Co. now takes over with the rest of the G.E.L.M.O. stock is fitted with chain-drive gearboxes, and that the absorption has thus opportunely avoided a patent-right wrangle.
That some outside passengers on London motorbuses bedeck themselves with goggles, much to the amusement of those who see them, but that this automobile caper furnishes indirect testimony to the ability of drivers to get over the ground. That it is not every chief official who leaves the General Motor Cab Co.'s service that is allowed to receive a testimonial.
That it is rumoured that the reason the motorcab driver insists that he is a skilled worker is because he's killed so much time in the past.
That Mr. Eric F. Boult, who is now home from Australia looks a new man, and that he shows no signs of being connected with anything tired.
That "John Bull" thinks shareholders in London's new bus company are "bound to lose their money," but that the reason for this unkindly prophecy is not made clear.
That the Daimler motorbus promotion is a manufacturer's retaliation upon the L.G.O.C. for its chassis-building departure and that. the older use does not see any fun in die converse position.
That the best and most-wonderful haulage job is the conveyance of four huge air receivers, from Oldbury to Devonport, via Gloucester, Bristol and Exeter, that each receiver weighs 37 tons, is 30 ft. long and ll ft. in diameter, that each requires two traction engines to draw it, that the load has to be unshipped under practically every bridge—owing to the precaution taken by the constructors, Messrs. Danks, in using big-wheeled trolleys (4 ft. diameter), to safeguard themselves against claims for road damage, and that, in spite of these difficulties, the point-to-point trip occupies only a week.
That, during the last five years, Sturmey Motors, Ltd., has not had to replace a single gearwheel on any chassis of its manufacture, although the gears are not hardened.
That H. Darby, one of the L.G.O. district engineers, together with his brother R. Darby, won their heats and the finals in both the double-canoe and the fourpaddle-canoe races, between the Royal Canoe Club and teams of Oxford Canadians, last Saturday, at Teddington.
That Irish local authorities cannot keep politics out of supposed discussions upon road matters, but that Sir Gfeorge Gibb, at last month's congress in. Dublin, by a discreet playing upon the national love of humour, was pretty well able to rescue the 2,000mile trunk-goad proposition from a distinctly-unmerited submergence.
That proposals are again in the air for the establishment of an R.A.C. museum, and that amongst the exhibits, which it has been suggested shall be procured before it is too late, are : a Henry howler; a horseshoe ; a taxicab "extra ;" an L.C.C. tramcar ; a stick of cat's meat ; a steam fire-engine ; and a copyof Manchester's motorcab regulations.