A Motor Omnibus Service for Paris.
11th May 1905
Page 18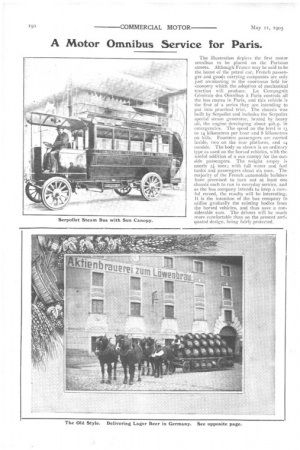 Page 18, 11th May 1905 —
A Motor Omnibus Service for Paris.
Close
The illustration depicts the first motor omnibus to be placed on the Parisian streets. Although France may be said to be the home of the petrol car, French passenger and goods carrying companies are only just awakening to the enormous field for economy which the adoption of mechanical traction will produce. La Compagnie G6nerale des Omnibus a Paris controls all the bus routes in Paris, and this vehicle is the first of a series they are intending to put into practical trial. The chassis was built by Serpollet and includes the Serpollct special steam generator, heated by heavy oil, the engine developing about 4oh.p. in emergencies. The speed on the level is 13 to 14 kilometres per hour and 8 kilometres on hills. Fourteen passengers are carried inside, two on the rear platform, and 14 outside. The body as shown is an ordinary type as used on the horsed vehicles, with the useful addition of a sun canopy for the outside passengers. The weight empty is nearly 3i tons ; with full water and fuel tanks and passengers about six tons. The majority of the French automobile builders have promised to turn out at least one chassis each to run in everyday service, and as the bus company intends to keep a careful record, the results will be interesting. It is the intention of the bus company to utilise gradually the existing bodies from the horsed vehicles, and thus save a considerable sum. The drivers will be much more. comfortable than on the present antiquated design, being fairly protected.