Taking the road to power
11th March 2010
Page 18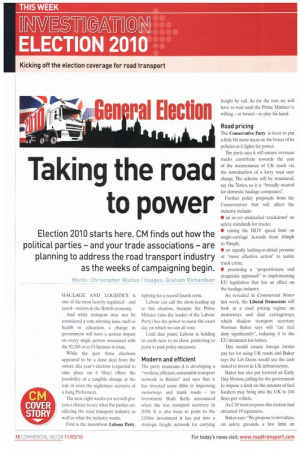 Page 19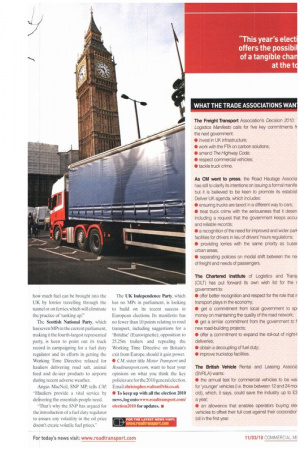 Page 18, 11th March 2010 —
Taking the road to power
Close
Keywords :
Transport
,
Land Transport
,
Transport Economics
,
Road Pricing
,
Transportation Planning
,
Truck
,
Roads In The United Kingdom
,
Scottish National Party
,
Labour Party
,
Salter Report
,
Fuel Protests In The United Kingdom
,
Politics
Election 2010 starts here. CM finds out how the political parties and your trade associations are planning to address the road transport industry as the weeks of campaigning begin.
Words: Chropei Walton / Images: Gram kicha tAson HAULAGE AND LOGISTICS is one of the most heavily regulated — and taxed —sectors in the British economy.
And while transport may not be considered a vote-winning issue, such as health or education, a change in government will have a serious impact on every single person associated with the 92289 or so 0-licences in issue.
While the past three elections appeared to he a done deal from the outset, this year's election (expected to take place on 6 May) offers the possibility of a tangible change at the top, or even the nightmare scenario of a hung Parliament.
The next eight weeks (or so) will give you a chance to see what the parties are offering the road transport industry as well as what the industry wants.
First is the incumbent Labour Party, fighting for a record fourth term.
Labour can call the shots leading up to this election, because the Prime Minster (also the leader of the Labour Party) has the power to name the exact day on which we can all vote.
Until that point, Labour is holding its cards near to its chest, preferring to point to past policy successes.
Modern and efficient The party maintains it is developing a "modern.efficient. sustainable transport network in Britainand says that it has invested some £6bn in improving motorways and trunk roads — an investment Ruth Kelly announced when she was transport secretary in 2008. It is also keen to point to the £200m investment it has put into a strategic freight network for carrying freight by rail. As for the rest, we will have to wait until the Prime Minister is willing — or forced — to play his hand.
Road pricing
The Conservative Party is keen to put a little bit more meat on the bones of its policies as it fights for power.
'the party says it will ensure overseas trucks contribute towards the cost of the maintenance of UK roads via the introduction of a lorry road user charge. The scheme will be structured, say the Tories, so it is "broadly neutral for domestic haulage companies".
Further policy proposals from the Conservatives that will affect the industry include: • an as-yet undetailed 'crackdown' on safety standards for trucks; • raising the HGV speed limit on single-carriage A-roads from 40mph to 50mph; • an equally lacking-in-detail promise of more effective action" to tackle truck crime; • promising a "proportionate and pragmatic approach" to implementing EU legislation that has an affect on the haulage industry.
As revealed in Commercial Motor last week, the Liberal Democrats will look at a road pricing regime on motorways and dual carriageways, which shadow transport secretary Norman Baker says will "cut fuel duty significantly", reducing it to the EU minimum for lorries.
This would ensure foreign lorries pay tax for using UK roads, and Baker says the Lib Dems would use the cash raised to invest in UK infrastructure.
Baker has also put forward an Early Day Motion, calling for the government to impose a limit on the amount of fuel hauliers may bring into the UK to 100 litres per vehicle.
As CM went to press, this motion had attracted 19 signatures.
Baker says: "We propose to introduce. on safety grounds, a low limit on
how much fuel can be brought into the UK by lorries travelling through the tunnel or on ferries, which will eliminate the practice of 'tanking up:"
The Scottish National Pady, which has seven MPs in the current parliament, making it the fourth-largest represented party, is keen to point out its track record in campaigning for a fuel duty regulator and its efforts in getting the Working Time Directive relaxed for hauliers delivering road salt, animal feed and de-icer products to airports during recent adverse weather.
Angus MacNeil. SNP MR tells CM: "Hauliers provide a vital service by delivering the essentials people need.
"That's why the SNP has argued for the introduction of a fuel duty regulator to ensure any volatility in the oil price doesn't create volatile fuel prices."
The UK Independence Party, which has no MPs in parliament, is looking to build on its recent success in European elections. Its manifesto has no fewer than points relating to road transport, including suggestions for a 'Britdisc' (Eurovignette), opposition to 2525m trailers and repealing the Working Time Directive on Britain's exit from Europe, should it gain power.
• CM, sister title Motor Transport and Roadtransport.com, want to hear your opinions on what you think the key policies are for the 2010 general election. Email christopher.walton@rhi.co.iik • To keep up with all the election 2010 news, log onto www.roadtrartsport.coin/ elec1ion2010 for updates.