The Wheels of Industry.
11th March 1915
Page 9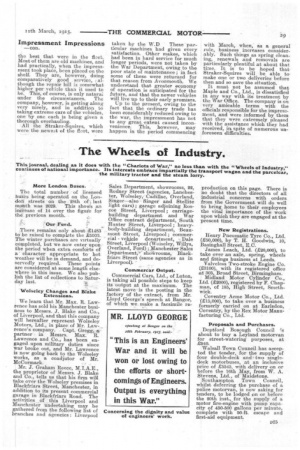 Page 9, 11th March 1915 —
The Wheels of Industry.
Close
More London Buses.
The total number of licensed bus'es being operated on the London streets on th.e 28th of last mo,h.th was '2029. This show's an inere.ase of 14 over the figure for the previous month.
'Our Fued.
There remains only about R1483 to be raised to complete the .R3000. The winter purchases are virtually completed, but we now enter upon the period when extra comforts of a ' character appropriate to hot weather will be in demand, and deservedly required. These points are considered at some length elsewhere in this issue. We also publish the list of collections to Saturday last.
Wolseley Changes and Blake Extensions.
We learn that Mr. Max. R. Lawrence has sold his Manchester business to Messrs. J. Blake and Co., of Liverpool, and that this company will hereafter represent Wolseley Motors, Ltd., in place of Mr. Lawrence's company. Capt. Gregg, a partner in Messrs. Max. R. Lawrence and Co., has been engaged upon military duties since war broke out, and Mr. Lawrence is now going back to the Wolseley works, as a coadjutor of Mr. MeCornaack.
Mr. J. Graham Reece, the proprietor of Messrs. J. Blake and Co., tells us that his firm will take over the Wolseley premises in Blaekfriars Street, Manchester, in addition to its present commercial garage in Blackfriars Road. The activities of this Liverpool and Manchester undertaking may be gathered from the following list of branches and agencies : Liverpool Sales Department, showrooms, 22, Rodney Street (agencies, Lanchester, Wolseley, Cadillac, Overland, Singer—also Singer and Stellite light cars); garage adjoining Roscoe Street, Liverpool ; carriagebuilding department and War Office contract defiartment, South Hunter Street, Liverpool ; heavybody-building department, Beaumont Street, Liverpool ; commercial vebicle department, -Dale Street, Liverpool (Wolseley, Willys, Overland, Ford); _Manchester Sales Department, shoieroorns, Blackfriars Street (same agencies as in Liverpool).
Commercar Output.
Commercial Cars, Ltd., of Luton, is taking all possible steps to keep its -output at the maximum. The latest move is the posting in the factory of the extract, from Mr Lloyd George's speech at Bangor of which we make a facsimile re
production on this page. There is no doubt that the directors of all industrial concerns with orders from the Government will do well to bring home to their employees the vital importance of the work upon which they are engaged at the present time.
New Registrations.
Henry Pneumatic Tyre Co., Ltd. (.00,000), by T. H. Goodwin, 10, Basinghall Street, E.C. James Leach, Ltd. (220,000), to take over an axle, spring, wheels and fittings business at Leeds.
Valveless Two-stroke Engine Co. (R3100), with its registered office at 303, Broad Street, Birmingham.
Midland Motor Cylinder Co., Ltd. (R2000), registered by F. Chapman of 185, High Street, Smethwick.
Coventry Acme Motor Co., Ltd. (216,000), to take over a business formerly carried on at Earlsdon, Coventry, by the Rex Motor Manufacturing Co., Ltd.
Proposals and Purchases.
Deptford Boxough Council is about to buy a. Leyland motorvan for street-watering purposes, at 2940.
Walsall Town Council has accepted the tender, for the supply of four double-deck and two singledeck motorbuses, at an inclusive price of 25545, with delivery on or before the 16th May from W. A. Stevens, Ltd., of Maidetone. Southampton Town Council, whilst deferring the purchase of a police motorvan, is now asking for tenders, to be lodged en or before the 20th inst., for the supply of a motor fire-engine with pump capacity of 450-500 gallons per minute, complete with 50. ft. escape and first-aid equipment.