Answers to Queries.
11th March 1915
Page 18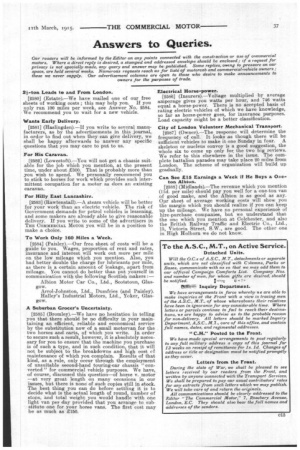 Page 18, 11th March 1915 —
Answers to Queries.
Close
Our readers will be informed by the Editor on any points connected with the construction or use of commercial
motors. is a direct reply is desired, a stamped and addressed envelope should be enclosed ; if a 7 equest for privacy es not specially made, any query and answer may be.published. Some replies, owing to pressure on our space, are held several weeks. Numerous requests reach us for list,1 of motorcab and commercial-vehicle owners ; these we never supply. Our advertisement columns are open to those who desire to make announcements to
owners for the purposes of trade.
21-ton Loads to and From London.
[2580] (Estate).—We have mailed one of our free sheets of working costs ; this may help you. If you only run 100 miles per week, see Answer No. 2584. We recommend you to wait for a new vehicle.
Wants Early Delivery.
[2581] (Haslingden).—If you write to several Emailfacturers, as by the advertisements in this journal, in order to find out when they can give delivery, we shall be happy afterwards to answer any specific questions that you may care to put to us.
For His Caravan.
[2582] (Lowestoft).—You will not get a chassis suitable for the job which you mention, at the present time, under about 300. That is proloably more than you wish to spend. We personally recommend you to stick to horses for work which provides such intermittent occupation for a motor as does an existing caravan.
For Hilly East Lancashire.
[2583] (Rawtenstall).—A steam vehicle will be better for your work than an electric vehicle. The risk of Government demands for petrol vehicles is lessening, and some makers are already able to give reasonable delivery. If you write to some of the advertisers in THE COMMERCIAL MOTOR you will be in a position to make a choice.
To Work Only 160 Miles a Week.
[2584] (Paisley).—Our free sheet of costs will be a guide to you. Wages, proportion of rent and rates, insurance and interest will work out more per mile on the low mileage which you mention. Also, you had better double the charge for lubricants per mile, as there is a certain amount of leakage, apart from mileage. You cannot do better than put yourself in communication with the following Scottish makers :— Albion Motor Car Co., Ltd., Scotstoun, Glasgow.
Arrol-Johnston Ltd. Dumfries (and Paisley). Halley's Industrial Motors, Ltd., Yoker, Glasgow.
A Suburban Grocer's Uncertainty.
[2585] (Bromley).—We have no hesitation in telling you that there should be no difficulty in your maintaining an efficient, reliable and economical service by the substitution now of a small inotorvan for the two horses and carts, of which you write. In order to secure such a result, however, it is absolutely necessary for you to ensure that the machine you purchase is of such a type, and in such condition, that it will not be subject to the breakdowns and high cost of maintenance of which you complain. Results of that kind, as a rule, only occur through the employment of unsuitable second-hand touring-car chassis "converted" for commercial vehicle purposes. We have, of course, discussed this question—of horse v. motor —at very great length on many occasions in our issues, but there is none of such copies still in stock. The best thing you can do before settling it is to decide what is the actual length of round, number of stops, and total weight you would handle with one light van per day provided that you arrange to substitute one for your horse vans. The first cot may be as much as £150. Electrical Horse-power. [2586] (Insurers).—Voltage multiplied by average amperage gives you watts per hour, and 746 watts equal a horse-power. There is no accepted basis of rating electric vehicles of which we have knowledge, so far as horse-power goes, for insurance purposes. Load capacity might be a better classification.
City of London Volunteer Mechanical Transport. [2587] (Owner).—The. response will determine the frequency of call. It looks as though there will be sufficient vehicles tci make it one Sunday in four. A skeleton or nucleus convoy is a good suggestion, the whole six to come up only for, the two big reviews. We refer to this elsewhere in the issue. The complete battalion parades may take place 20 miles from London. The scheme of organization will build up gradually.
Can See E15 Earnings a Week if He Buys a Oneton Albion.
[2588] (Midlands).—The revenue which you mention (ild, per mile) should pay you well for a one-ton van of good make, and the Albion is as good as any. Our sheet of average working costs will show you the margin which you should realize if you can keep up the mileage. We have no personal experience of hire-purchase campaniles1 but we understand that the one which you mention at Colchester, and also the British Railway Traffic and Electric Co., Ltd., 15, Victoria Street., S.W., are good. The other one in High Holborn we do not know.
To the A.S.C., M.T., on Active Service.
Detached Units.
Will the 0.C.s of A.S,C., MT., detachments or separate units, which are not classified with C)lumns, Parks or Bases, communicate with us EO that we may add them to our official Campaign Comforts List. Company Nos. and number of men, for whom gifts are desired, should be notified. .
Inquiry Department.
We have arrangements in force whereby ue are able to make inquiries at the Front with a view to tracing men of the A,S.C., M.T., of whose whereabouts their relatives have been in ignorance for any considerable time. Where letters or parcels continue to fail to reach their destinations, we are happy to advise as to the probable reason for non-delivery. All letters should be marked Inquiry Department, A.S.C., M.7., care of this office, and contain full names, dates, and regimental addresses.
" C.M." Posted to the Front.
We have made special arrangements to post regularly to any full military address a copy of this journal for 13 weeks on receipt of remittance for 1s. id. Changes of address or title or designation must be notified promptly as they occur.
Letters from the Front.
During the state of War, we shall be pleased to see letters received by our readers from the Front, and written by anyone connected with the Transport Services, We shall be prepared to pay our usual contributors' rates for any extracts from such letters which we may publish. We will take care of and return the originals.
All communications should be clearly addressed to the Editor The Commercial Motor," 7, Eosebery Avenue, London, E.C. They should also bear the full names and addresses of the senders.