Women Drivers, There appears to be a. tendency, not only
11th March 1915
Page 10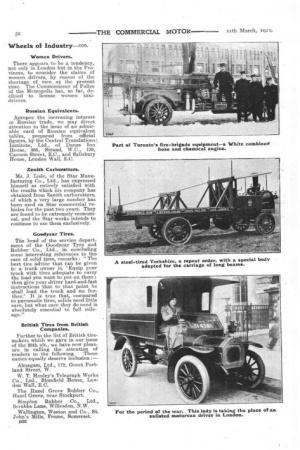 Page 10, 11th March 1915 —
Women Drivers, There appears to be a. tendency, not only
Close
in London but in the Provinces, to consider the claims of women drivers, by reason of the shortage of men at the present time. The Commissioner of Police of the Metropolis has, so far, declined to license women taxidrivers.
Russian Equivalents.
Apropos the increasing interest m Russian trade, we may direct attention to the issue of an admirable card of Russian equivalent tables, prepared from official figures, by the Central Translations Institute, Ltd., of Danes Inn House, 265, Strand, W.C., 139, Cannon Street, E.C., and Salisbury House, London Wall, E.C.
Zenith Carburetters.
Mr. J. Lisle, of the Star Manufacturing Co., Ltd., has expressed himself as entirely satisfied with the results which his company has obtained from Zenith carburetters, of which a very large number has been used on Star commercial vehicles for the past two years. They are found to be extremely economical, and the Star works intends to continue to use them exclusively.
Goodyear Tires.
The head of the service department of the Goodyear Tyre and Rubber Co., Ltd., in concluding some interesting references to the care of solid tires remarks : "The best tire advice that can be given to a truck owner is, 'Equip your truck with tires adequate to carry the load you want to put on them ; then give your driver hard-and-fast instructions that to that point he shall load the truck and no further.' It is true that, compared to pneumatic tires, solids need little care, but what care they do need is absolutely essential to full mileage."
British Tires from British Companies.
Further to the list of British tiremakers which we gave in our issue of the 25th ult., we have now pleasure in calling the attention of readers to the following. These names equally deserve inclusion :— Ahriagam, Ltd., 172, Great Portland Street, W.
W. T. Henley's Telegraph Works Co., Ltd., Blomfield House, London Wall, E.C.
The Hazel Grove Rubber Co., Hazel Grove, near Stockport.
Simplex Rubber Co., Ltd., Scrubbs Lane, Willesden, N.W.
Wallington, Weston and Co., St. John's Mills, Frome, Somerset. D26