Curtain opens way to maximise space By Kevin Swallow SOUTH
11th July 2013
Page 9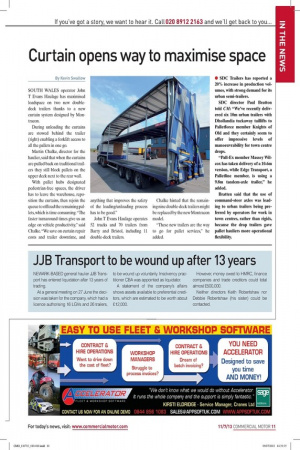 Page 9, 11th July 2013 —
Curtain opens way to maximise space By Kevin Swallow SOUTH
Close
WALES operator John T Evans Haulage has maximised loadspace on two new doubledeck trailers thanks to a new curtain system designed by Montracon.
During unloading the curtains are stowed behind the trailer (right) enabling a forklift access to all the pallets in one go.
Martin Chalke, director for the haulier, said that when the curtains are pulled back on traditional trailers they still block pallets on the upper deck next to the rear wall.
With pallet hubs designated pedestrian-free spaces, the driver has to leave the warehouse, reposition the curtains, then rejoin the queue to offload the remaining pallets, which is time consuming. "The faster turnaround times give us an edge on vehicle productivity," said Chalke "We save on curtain repair costs and trailer downtime, and anything that improves the safety of the loading/unloading process has to be good."
John T Evans Haulage operates 52 trucks and 70 trailers from Barry and Bristol, including 11 double-deck trailers. Chalke hinted that the remaining nine double-deck trailers might be replaced by the new Montracon model.
"These new trailers are the way to go for pallet services," he added.