MPs move to set new recovery standard By Chris Tindall
11th July 2013
Page 8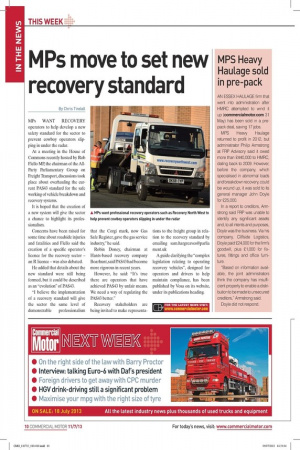 Page 8, 11th July 2013 —
MPs move to set new recovery standard By Chris Tindall
Close
MPs WANT RECOVERY operators to help develop a new safety standard for the sector to prevent cowboy operators slipping in under the radar.
At a meeting in the House of Commons recently hosted by Rob Flello ATP, the chairman of the AllParty Parliamentary Group on Freight Transport, discussions took place about overhauling the current PAS43 standard for the safe working of vehicle breakdown and recovery systems.
It is hoped that the creation of a new system will give the sector a chance to highlight its professionalism.
Concerns have been raised for some time about roadside injuries and fatalities and Flello said the creation of a specific operator's licence for the recovery sector — an R licence — was also debated.
He added that details about the new standard were still being formed, but it could be described as an "evolution" of PAS43.
"I believe the implementation of a recovery standard will give the sector the same level of demonstrable professionalism that the Corgi mark, now Gas Safe Register, gave the gas service industry," he said.
Robin Doney, chairman at Hants-based recovery company Boarhunt, s aid PA543 had become more rigorous in recent years.
However, he said: "It's true there are operators that have achieved PA543 by unfair means. We need a way of regulating the PA543 better."
Recovery stakeholders are being invited to make representa tions to the freight group in relation to the recovery standard by emailing sam.hargreaves@p arlia ment.uk A guide clarifying the "complex legislation relating to operating recovery vehicles", designed for operators and drivers to help maintain compliance, has been published by Vosa on its website, under its publications heading.