Truckstops more operators fear closures THE OWNER OF Suffolk's Orwell
11th July 2013
Page 6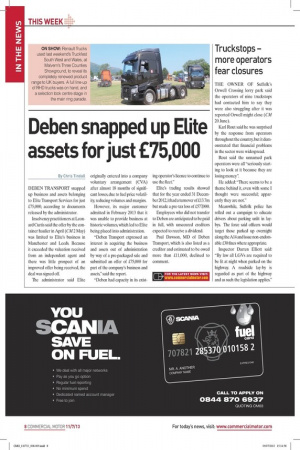 Page 6, 11th July 2013 —
Truckstops more operators fear closures THE OWNER OF Suffolk's Orwell
Close
Crossing lorry park said the operators of nine truckstops had contacted him to say they were also struggling after it was reported Orwell might close (CM 20 June).
Karl Rout said he was surprised by the response from operators throughout the country, but it demonstrated that financial problems in the sector were widespread.
Rout said the unnamed park operators were all "seriously starting to look at it because they are losing money".
He added: "There seems to be a theme behind it, even with some I thought were successful; apparently they are not."
Meanwhile, Suffolk police has rolled out a campaign to educate drivers about parking unlit in laybys. The force said officers would target those parked up overnight along the A14 and issue non-endorsable £30 fines where appropriate.
Inspector Darren Elliott said: "By law all LGVs are required to be lit at night when parked on the highway. A roadside lay-by is regarded as part of the highway and as such the legislation applies."