Vosa set to tackle grey fleet .4 the CM tea ii.
11th July 2013
Page 5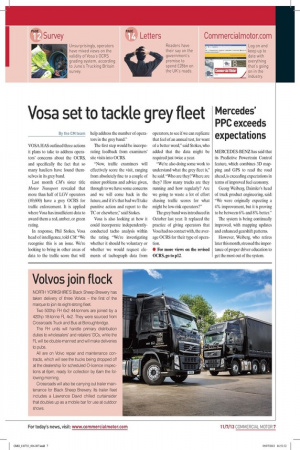 Page 5, 11th July 2013 —
Vosa set to tackle grey fleet .4 the CM tea ii.
Close
VOSA HAS outlined three actions it plans to take to address operators' concerns about the OCRS, and specifically the fact that so many hauliers have found themselves in its grey band.
Last month CM's sister title Motor Transport revealed that more than half of LGV operators (49,600) have a grey OCRS for traffic enforcement. It is applied where Vosa has insufficient data to award them a red, amber, or green rating.
In response, Phil Stokes, Vosa head of intelligence, told CM: "We recognise this is an issue. We're looking to bring in other areas of data to the traffic score that will help address the number of operators in the grey band."
The first step would be incorporating feedback from examiners' site visits into OCRS.
"Now, traffic examiners will effectively score the visit, ranging from absolutely fine to a couple of minor problems and advice given, through to we have some concerns and we will come back in the future, and if it's that bad we'll take punitive action and report to the TC or elsewhere," said Stokes.
Vosa is also looking at how it could incorporate independentlyconducted tacho analysis within the rating. "We're investigating whether it should be voluntary or whether we would request elements of tachograph data from operators, to see if we can replicate that feel of an annual test, for want of a better word," said Stokes, who added that the data might be required just twice a year.
"We're also doing some work to understand what the grey fleet is," he said. "Who are they? Where are they? How many trucks are they running and how regularly? Are we going to waste a lot of effort chasing traffic scores for what might be low-risk operators?"
The grey band was introduced in October last year. It replaced the practice of giving operators that Vosa had no contact with, the average OCRS for their type of operation.
• For more views on the revised OCRS, go to p12.