Arrow XL takes Pride in providing customer service Two-man delivery
11th July 2013
Page 40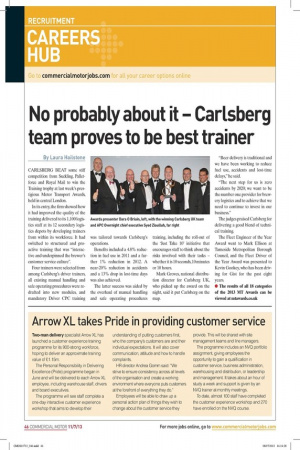 Page 40, 11th July 2013 —
Arrow XL takes Pride in providing customer service Two-man delivery
Close
specialist Arrow XL has launched a customer experience training programme for its 900-strong workforce, hoping to deliver an approximate training value of £1.15m.
The Personal Responsibility in Delivering Excellence (Pride) programme began in June and will be delivered to each Arrow XL employee, including warehouse staff, drivers and board executives.
The programme will see staff complete a one-day interactive customer experience workshop that aims to develop their understanding of putting customers first, who the company's customers are and their individual expectations. It will also cover communication, attitude and how to handle complaints.
HR director Andrea Gomm said: "We strive to ensure consistency across all levels of the organisation and create a working environment where everyone puts customers at the forefront of everything they do."
Employees will be able to draw up a personal action plan of things they wish to change about the customer service they provide. This will be shared with site management teams and line managers.
The programme includes an NVQ portfolio assignment, giving employees the opportunity to gain a qualification in customer service, business administration, warehousing and distribution, or leadership and management. It takes about an hour of study a week and support is given by an NVQ trainer at monthly meetings.
To date, almost 100 staff have completed the customer experience workshop and 270 have enrolled on the NVQ course.