Prohibition blitz planned to fight non-compliance VOSA IS AIMING to
11th July 2013
Page 4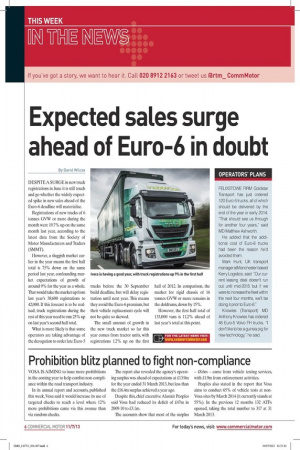 Page 4, 11th July 2013 —
Prohibition blitz planned to fight non-compliance VOSA IS AIMING to
Close
issue more prohibitions in the coming year to help combat non-compliance within the road transport industry.
In its annual report and accounts, published this week, Vosa said it would increase its use of targeted checks to reach a level where 12% more prohibitions came via this avenue than via random checks. The report also revealed the agency's operating surplus was ahead of expectations at £13.9m for the year ended 31 March 2013, but less than the £16.4m surplus achieved a year ago.
Despite this, chief executive Alastair Peoples said Vosa had reduced its deficit of £47m in 2009-10 to £3.1m.
The accounts show that most of the surplus — £8.6m — came from vehicle testing services, with £1.9m from enforcement activities.
Peoples also stated in the report that Vosa aims to conduct 65% of vehicle tests at nonVosa sites by March 2014 (it currently stands at 55%). In the previous 12 months 132 ATFs opened, taking the total number to 317 at 31 March 2013.