British marque to rival the Continentals The mas er Foden's
11th July 2013
Page 36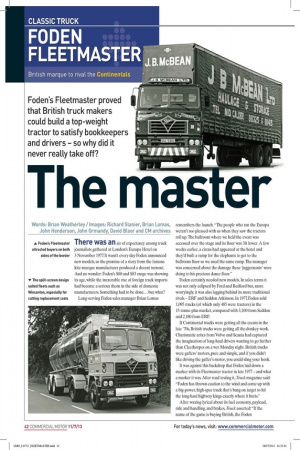 Page 37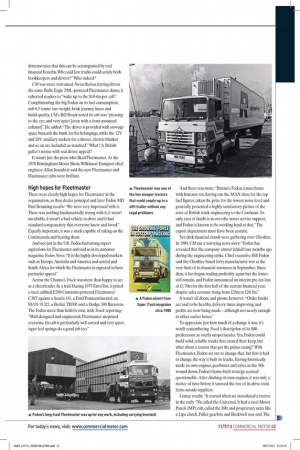 Page 38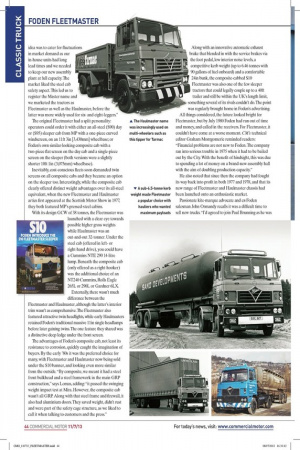 Page 39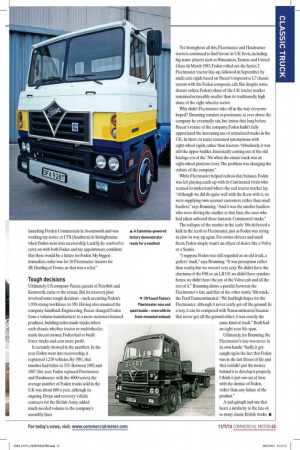 Page 36, 11th July 2013 —
British marque to rival the Continentals The mas er Foden's
Close
Fleetmaster proved that British truck makers could build a top-weight tractor to satisfy bookkeepers and drivers so why did it never really take off?
Words: Brian Weathertey / Images: Richard Stanier, Brian Lomas, John Henderson, John Ormandy, David Btoor and CM archives Foden's Fleetmaster There was an air of expectancy among truck attracted buyers on both journalists gathered at London's Europa Hotel on sides of the border 3 November 1977 It wasn't every day Foden announced new models, so the promise of a story from the famous kite-marque manufacturer produced a decent turnout. And no wonder: Foden's S80 and S83 range was showing The split-screen design its age, while the inexorable rise of foreign truck imports suited fleets such as had become a serious thorn in the side of domestic Wincanton, especially for manufacturers. Something had to be done... but what?
cutting replacement costs Long-serving Foden sales manager Brian Lomas remembers the launch. "The people who ran the Europa weren't too pleased with us when they saw the tractors roll up. The ballroom where we held the event was accessed over the stage and its floor was 3ft lower. A few weeks earlier, a circus had appeared at the hotel and they'd built a ramp for the elephants to get to the ballroom floor so we used the same ramp. The manager was concerned about the damage these 'juggernauts' were doing to his precious dance floor."
Foden certainly needed new models. In sales terms it was not only eclipsed by Ford and Bedford but, more worryingly, it was also lagging behind its more traditional rivals — ERF and Seddon Atkinson In 1977, Foden sold 1,095 trucks (of which only 485 were tractors) in the 15-tonne-plus market, compared with 3,100 from Seddon and 2,180 from ERF.
If Continental trucks were getting all the cream in the late '70s, British trucks were getting all the donkey work. Charismatic artics from Volvo and Scania had captured the imagination of long-haul drivers wanting to go further than Cleethorpes on a wet Monday night. British trucks were gaffers' motors, pure and simple, and if you didn't like driving the gaffer's motor, you could sling your hook.
It was against this backdrop that Foden laid down a marker with its Fleetmaster tractor in late 1977 — and what a marker it was. After road testing it, Truck magazine said: "Foden has thrown caution to the wind and come up with a big-power, high-spec truck that's bang on target to hit the long-haul highway kings exactly where it hurts."
After waxing lyrical about its fuel economy, payload, ride and handling, and brakes, Truck asserted: "If the name of the game is buying British, the Foden demonstrates that this can be accompanied by real financial benefits. Who said few trucks could satisfy both bookkeepers and drivers?" Who indeed?
CM was more restrained. Nevertheless, having driven the same Rolls Eagle 290L-powered Fleetmaster demo, it exhorted readers to "wake up to the S10 sleeper cab': Complimenting the big Foden on its fuel consumption, sub-6.5-tonne tare weight, brisk journey times and build-quality, CM's Bill Brock noted its cab was "pleasing to the eye, and very quiet [even with a front-mounted exhaust]': He added: "The driver is provided with stowage space beneath the bunk for his belongings, while the 12V and 24V auxiliary sockets for a shaver, electric blanket and so on are included, as standard." What? A British gaffer's motor with real driver appeal?
It wasn't just the press who liked Fleetmaster. At the 1978 Birmingham Motor Show, Wilkinson Transport chief engineer Allan Scandrett said the new Fleetmaster and Haulmaster cabs were brilliant.
High hopes for Fteetmaster There were clearly high hopes for Fleetmaster in the organisation, as then dealer principal and later Foden MD Paul Brunning recalls: "We were very impressed with it. There was nothing fundamentally wrong with it, it wasn't unreliable, it wasn't a bad vehicle to drive and it had standard componentry that everyone knew and loved." Equally important, it was a truck capable of taking on the Continentals and beating them.
And not just in the UK. Foden had strong export aspirations for Fleetmaster and said so in its customer magazine Foden News: "It is the highly developed markets such as Europe, Australia and America and central and South Africa for which the Fleetmaster is expected to have particular appeal."
Across the Channel, Truck was more than happy to act as a cheerleader. In a trail-blazing 1979 EuroTest, it pitted a steel-cabbed E290 Cummins-powered Fleetmaster C38T against a Scania 141, a Ford Transcontinental, an MAN 19.321, a Berliet TR305 and a Dodge 300 Barreiros. The Foden more than held its own, with Truck reporting: "Well-designed and engineered, Fleetmaster surprised everyone. Its cab is particularly well-sorted and very quiet; taper leaf springs do a good job too." And there was more: "Britain's Foden comes home with honours too, having run the MAN close for the top fuel figures, taken the prize for the lowest noise level and generally presented a highly satisfactory picture of the state of British truck engineering to the Continent. Its only area of doubt is in over-the-water service support, and Foden is known to be working hard at that." The export department must have been ecstatic.
Yet dark financial clouds were gathering over Cheshire. In 1980, CM ran a worrying news story: "Foden has revealed that the company almost folded four months ago during the engineering strike. Chief executive Bill Foden said the Cheshire-based lorry manufacturer was at the very limit of its financial resources in September. Since then, it has begun trading profitably again but the losses still remain, and Foden announced an interim pre-tax loss of £1.70m for the first half of the current financial year, despite sales revenue rising from £23m to £28.5m."
It wasn't all doom and gloom, however: "Order books are said to be healthy, delivery times improving, and profits are now being made — although not nearly enough to offset earlier losses."
To appreciate just how much of a change it was, it's worth remembering Truck's description of its S80 predecessor as totally unspectacular. Yes, Foden could build solid, reliable trucks that earned their keep, but what about a tractor that got the pulses racing? With Fleetmaster, Foden set out to change that, but first it had to change the way it built its trucks. Having historically made its own engines, gearboxes and axles, as the '60s wound down, Foden's home-built strategy seemed questionable. After ditching its own engines, it was only a matter of time before it sourced the rest of its drive-train from outside suppliers.
Lomas recalls: "It started when we introduced a tractor in the early '70s called the Universal. It had a steel Motor Panels (MP) cab, called the S90, and proprietary units like a Lipe clutch, Fuller gearbox and Rockwell rear end. The The original Fleetmaster had a split personality: operators could order it with either an all-steel (S90) day or (S95) sleeper cab from MP with a one-piece curved windscreen, on an lift 3M [3,430mm] wheelbase; or Foden's own similar-looking composite cab with a two-piece flat screen on the day cab and a single-piece screen on the sleeper (both versions were a slightly shorter 10ft tin (3,075mm) wheelbase).
Inevitably, cost-conscious fleets soon demanded twin screens on all composite cabs and they became an option on the sleeper too. Interestingly, while the composite cab clearly offered distinct weight advantages over its all-steel equivalent, when the new Fleetmaster and Haulmaster artics first appeared at the Scottish Motor Show in 1977, they both featured MP's pressed-steel cabins.
With its design GCVV of 38 tonnes, the Fleetmaster was launched with a clear eye towards possible higher gross weights while Haulmaster was an out-and-out 32-tonner. Under the steel cab (offered in leftor right-hand drive), you could have a Cummins NTE 290 14-litre lump. Beneath the composite cab (only offered as a right-hooker) was the additional choice of an NT240 Cummins, Rolls Eagle 265L or 290L or Gardner 6LX.
Externally, there wasn't much difference between the Fleetmaster and Haulmaster, although the latter's interior trim wasn't as comprehensive. The Fleetmaster also featured attractive twin headlights, while early Haulmasters retained Foden's traditional massive llin single headlamps before later gaining twins. The one feature they shared was a distinctive deep ledge under the front screen.
The advantages of Foden's composite cab, not least its resistance to corrosion, quickly caught the imagination of buyers. By the early '80s it was the preferred choice for many, with Fleetmaster and Haulmaster now being sold under the S10 banner, and looking even more similar from the outside. "By composite, we meant it had a steel front bulkhead and a steel framework in the main GRP construction," says Lomas, adding: "it passed the swinging weight impact test at Mira. However, the composite cab wasn't all GRP. Along with that steel frame and firewall, it also had aluminium doors. They saved weight, didn't rust and were part of the safety cage structure, as we liked to call it when talking to customers and the press." Along with an innovative automatic exhaust brake that blended in with the service brakes via the foot pedal, low interior noise levels, a competitive kerb weight (up to 6.46 tonnes with 90 gallons of fuel onboard) and a comfortable 24in bunk, the composite-cabbed S10 Fleetmaster was also one of the few sleeper tractors that could legally couple up to a 40ft trailer and still be within the UK's length limit, something several of its rivals couldn't do. The point was regularly brought home in Foden's advertising. All things considered, the future looked bright for Fleetmaster, but by July 1980 Foden had run out of time and money, and called in the receivers. For Fleetmaster, it couldn't have come at a worse moment. CM'S technical editor Graham Montgomerie reminded readers: "Financial problems are not new to Foden. The company ran into serious trouble in 1975 when it had to be bailed out by the City. With the benefit of hindsight, this was due to spending a lot of money on a brand-new assembly hall with the aim of doubling production capacity." He also noted that since then the company had fought its way back into profit in both 1977 and 1978, and that its new range of Fleetmaster and Haulmaster chassis had been launched onto an enthusiastic market.
Passionate kite-marque advocate and ex-Foden salesman John Ormandy recalls it was a difficult time to sell new trucks. "I'd agreed to join Paul Brunning as he was launching Forden Commercials in Avonmouth and was working my notice at CTS (Southern) in Sittingbourne when Foden went into receivership. Luckily, he resolved to carry on with both Foden and my appointment, confident that there would be a future for Foden. My biggest immediate order was for 10 Fleetmaster tractors for JR Harding of Frome, so that was a relief."
Tough decisions Ultimately, US company Paccar, parent of Peterbilt and Kenworth, came to the rescue. But its recovery plan involved some tough decisions — such as cutting Foden's 1,950-strong workforce to 350. Having also renamed the company Sandbach Engineering, Paccar changed Foden from a volume manufacturer to a more customer-focused producer, building tailor-made trucks where each chassis, whether tractor or multiwheeler, made decent money. Foden had to build fewer trucks and earn more profit.
It certainly showed in the numbers. In the year Foden went into receivership, it registered 1,210 vehicles. By 1981, that number had fallen to 535. Between 1982 and 1987 (the year Foden replaced Fleetmaster and Haulmaster with the 4000 series) the average number of Foden trucks sold in the UK was about 600 a year, although its ongoing Drops and recovery vehicle contracts for the British Army added much-needed volume to the company's assembly lines. Yet throughout all this, Fleetmaster and Hau'master tractors continued to find favour in UK fleets, including big-name players such as Wincanton, Tarmac and United Glass. In March 1983, Foden rolled out the Series 2 Fleetmaster tractor line-up, followed in September by multi-axle rigids based on Paccar's impressive L7 chassis system with the Foden composite cab. But despite some decent orders, Foden's share of the UK tractor market remained noticeably smaller than its traditionally high share of the eight-wheeler sector.
Why didn't Fleetmaster take off in the way everyone hoped? Brunning remains as passionate as ever about the company he eventually ran, but insists that long before Paccar's rescue of the company, Foden hadn't fully appreciated the increasing use of articulated trucks in the UK. In short, its name remained synonymous with eight-wheel rigids, rather than tractors. "Absolutely, it was still the tipper builder, historically coming out of the old haulage era of the '50s when the classic truck was an eight-wheel platform lorry. The problem was changing the culture of the company."
While Fleetmaster helped redress that balance, Foden was left playing catch-up with its Continental rivals who seemed to understand where the real tractor market lay. "Although we did do quite well with the fleets with it, we were supplying own-account customers, rather than small hauliers," says Brunning. "And it was the smaller hauliers who were driving the market at that time, the ones who had taken onboard these fantastic Continental trucks."
The collapse of the market in the early '80s delivered a kick in the teeth to Fleetmaster, just as Foden was trying to claw its way up again. For owner-drivers and small fleets, Foden simply wasn't an object of desire like a Volvo or a Scania.
"I suppose Foden was still regarded as an old truck, a gaffers' truck," says Brunning. "It was perception rather than reality, but we weren't very sexy. We didn't have the charisma of the F88 or an LB110, we didn't have synchroboxes, we didn't have the joy of the Volvo cab and all the rest of it." Brunning draws a parallel between the Fleetmaster's fate and that of the other iconic '80s truck, the Ford Transcontinental. "We had high hopes for the Fleetmaster, although it never really got off the ground. In a way, it can be compared with Transcontinental because that never got off the ground either, it was exactly the same kind of truck." Both had an eight-year life-span.
Ultimately, for Brunning, the Fleetmaster's fate was never in its own hands. "Sadly, it got caught up in the fact that Foden was in the last throes of life and they couldn't put the money behind it to develop it properly. I think it just ran out of time with the demise of Foden, rather than any failure of the product."
A sad epitaph and one that bears a similarity to the fate of so many classic British trucks. •