HEAVY TRUCKS GLOBAL MARKETS Daimler aims for world domination Daimler
11th July 2013
Page 33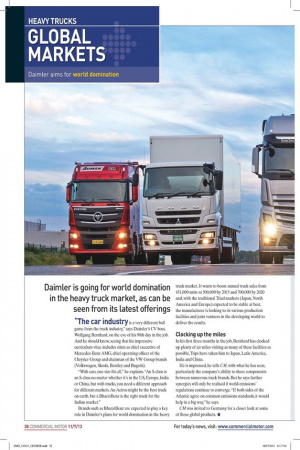 Page 34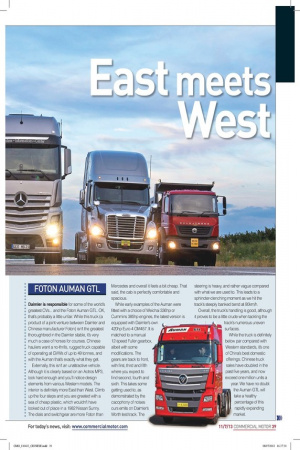 Page 35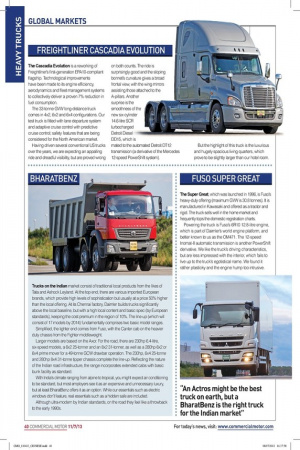 Page 33, 11th July 2013 —
HEAVY TRUCKS GLOBAL MARKETS Daimler aims for world domination Daimler
Close
is going for world domination in the heavy truck market, as can be seen from its latest offerings The car industry is a very different ball game from the truck industry," says Daimler's CV boss, Wolfgang Bernhard, on the eve of his 90th day in the job. And he should know, seeing that his impressive curriculum vitae includes stints as chief executive of Mercedes-Benz AMG, chief operating officer of the Chrysler Group and chairman of the VW Group brands (Volkswagen, Skoda, Bentley and Bugatti).
"With cars, one size fits all," he explains. "An S-class is an S-class no matter whether it's in the US, Europe, India or China, but with trucks, you need a different approach for different markets. An Actros might be the best truck on earth, but a BharatBenz is the right truck for the Indian market."
Brands such as BharatBenz are expected to play a key role in Daimler's plans for world domination in the heavy truck market. It wants to boost annual truck sales from 451,000 units to 500,000 by 2015 and 700,000 by 2020 and, with the traditional Triad markets (Japan, North America and Europe) expected to be stable at best, the manufacturer is looking to its various production facilities and joint ventures in the developing world to deliver the results.
Clocking up the miles In his first three months in the job, Bernhard has clocked up plenty of air miles visiting as many of these facilities as possible. Trips have taken him to Japan, Latin America, India and China.
He is impressed, he tells CM, with what he has seen, particularly the company's ability to share components between numerous truck brands. But he says further synergies will only be realised if world emissions' regulations continue to converge. "If both sides of the Atlantic agree on common emissions standards, it would help in a big way," he says.
CM was invited to Germany for a closer look at some of these global products. • Mercedes and overall it feels a bit cheap. That said, the cab is perfectly comfortable and spacious.
where you expect to find second, fourth and sixth. This takes some getting used to, as demonstrated by the cacophony of noises ours emits on Daimler's Worth test track. The steering is heavy, and rather vague compared with what we are used to. This leads to a sphincter-clenching moment as we hit the track's steeply banked bend at 90km/h. Overall, the truck's handling is good, although it proves to be a little crude when tackling the track's numerous uneven surfaces.
While the truck is definitely below par compared with Western standards, it's one of China's best domestic offerings. Chinese truck sales have doubled in the past five years, and now exceed one million units a year. We have no doubt the Auman GTL will take a healthy percentage of this rapidly expanding market. FOTON AUMAN GTL Daimler is responsible for some of the world's greatest CVs... and the Foton Auman GTL. OK, that's probably a little unfair. While this truck (a product of a joint venture between Daimler and Chinese manufacturer Foton) isn't the greatest thoroughbred in the Daimler stable, it's very much a case of horses for courses. Chinese hauliers want a no-thrills, rugged truck capable of operating at GVWs of up to 49 tonnes, and with the Auman that's exactly what they get.
Externally, this isn't an unattractive vehicle. Although it is clearly based on an Actros MP3, look hard enough and you'll notice design elements from various Western models. The interior is definitely more East than West. Climb up the four steps and you are greeted with a sea of cheap plastic, which wouldn't have looked out of place in a 1982 Nissan Sunny. The dials and switchgear are more Foton than FREIGHTLINER CASCADIA EVOLUTION The Cascadia Evolution is a reworking of Freightliner's first-generation EPA10-compliant flagship. Technological improvements have been made to its engine efficiency, aerodynamics and fleet management systems to collectively deliver a proven 7% reduction in fuel consumption.
The 33-tonne GVW long-distance truck comes in 4x2, 6x2 and 6x4 configurations. Our test truck is fitted with lane departure system and adaptive cruise control with predictive cruise control; safety features that are being considered for the North American market.
Having driven several conventional US trucks over the years, we are expecting an appalling ride and dreadful visibility, but are proved wrong But the highlight of this truck is the luxurious and hugely spacious living quarters, which prove to be slightly larger than our hotel room.
BHARATBENZ Trucks on the Indian market consist of traditional local products from the likes of Tata and Ashock Leyland. At the top end, there are various imported European brands, which provide high levels of sophistication but usually at a price 50% higher than the local offering. At its Chennai factory, Daimler builds trucks significantly above the local baseline, but with a high local content and basic spec (by European standards), keeping the cost premium in the region of 10%. The line-up (which will consist of 17 models by 2014) fundamentally comprises two basic model ranges.
Simplified, the lighter end comes from Fuso, with the Canter cab on the heavier duty chassis from the Fighter middleweight.
Larger models are based on the Axor. For the road, there are 230hp 6.4-litre, six-speed models, a 6x2 25-tonner and an 8x2 31-tonner, as well as a 280hp 6x2 or 6x4 prime mover for a 49-tonne GCW drawbar operation. The 230hp, 6x4 25-tonne and 280hp 8x4 31-tonne tipper chassis complete the line-up. Reflecting the nature of the Indian road infrastructure, the range incorporates extended cabs with basic bunk facility as standard.
With India's climate ranging from alpine to tropical, you might expect air conditioning to be standard, but most employers see it as an expensive and unnecessary luxury, but at least BharatBenz offers it as an option. While our essentials such as electric windows don't feature, real essentials such as a hidden safe are included.
Although ultra-modern by Indian standards, on the road they feel like a throwback to the early 1990s. FUSO SUPER GREAT The Super Great, which was launched in 1996, is Fuso's heavy-duty offering (maximum GVW is 30.8 tonnes). It is manufactured in Kawasaki and offered as a tractor and rigid. The truck sells well in the home market and frequently tops the domestic registration charts.
Powering the truck is Fuso's 6R10 12.8-litre engine, which is part of Daimler's world engine platform, and better known to us as the 0M471. The 12-speed Inomat-II automatic transmission is another PowerShift derivative. We like the truck's driving characteristics, but are less impressed with the interior, which fails to live up to the truck's egotistical name. We found it rather plasticky and the engine hump too intrusive.