Time for cyde rethink?
11th July 2013
Page 2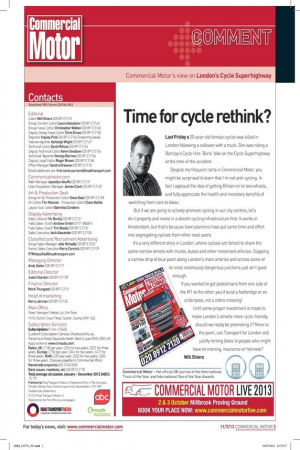 Page 2, 11th July 2013 —
Time for cyde rethink?
Close
Last Friday a 20-year-old female cyclist was killed in London following a collision with a truck. She was riding a Barclay's Cycle Hire 'Boris' bike on the Cycle Superhighway at the time of the accident.
Despite my frequent rants in Commercial Motor, you might be surprised to learn that I'm not anti-cycling. In fact I applaud the idea of getting Britain on to two wheels, and fully appreciate the health and monetary benefits of switching from cars to bikes.
But if we are going to actively promote cycling in our city centres, let's do it properly and invest in a decent cycling infrastructure first. It works in Amsterdam, but that's because town planners have put some time and effort into segregating cyclists from other road users.
It's a very different story in London, where cyclists are forced to share the same narrow streets with trucks, buses and other motorised vehicles. Slapping a narrow strip of blue paint along London's main arteries and across some of its most notoriously dangerous junctions just isn't good enough.
If you wanted to get pedestrians from one side of the M1 to the other you'd build a footbridge or an underpass, not a zebra crossing!
Until some proper investment is made to make London's streets more cycle-friendly, should we really be promoting it? More to the point, can Transport for London still justify renting bikes to people who might have no training, insurance or helmets? Will Shiers