No business wants to face a manslaughter investigation, but on what grounds can charges be brought?
11th July 2013
Page 19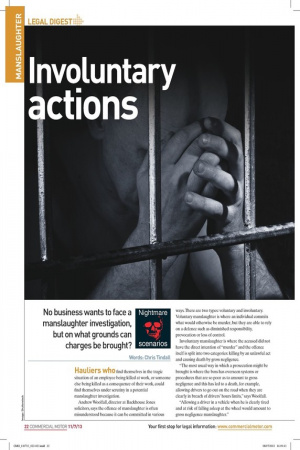 Page 20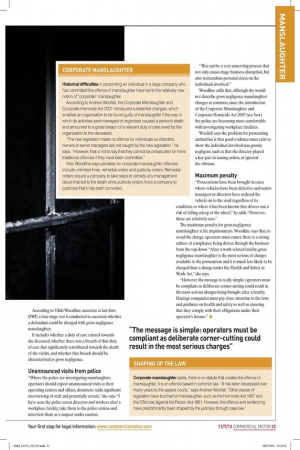 Page 19, 11th July 2013 —
No business wants to face a manslaughter investigation, but on what grounds can charges be brought?
Close
Words: Chris Tindall Hauliers wno find themselves in the tragic situation of an employee being killed at work, or someone else being killed as a consequence of their work, could find themselves under scrutiny in a potential manslaughter investigation.
Andrew Woolf all, director at Backhouse Jones solicitors, says the offence of manslaughter is often misunderstood because it can be committed in various ways. There are two types: voluntary and involuntary. Voluntary manslaughter is where an individual commits what would otherwise be murder, but they are able to rely on a defence such as diminished responsibility, provocation or loss of control.
Involuntary manslaughter is where the accused did not have the direct intention of "murder" and the offence itself is split into two categories: killing by an unlawful act and causing death by gross negligence.
"The most usual way in which a prosecution might be brought is where the boss has overseen systems or procedures that are so poor as to amount to gross negligence and this has led to a death, for example, allowing drivers to go out on the road when they are clearly in breach of drivers' hours limits," says Woolfall.
"Allowing a driver in a vehicle when he is clearly tired and at risk of falling asleep at the wheel would amount to gross negligence manslaughter." According to Vikki Woodfine, associate at law firm DWF, a four-stage test is conducted to ascertain whether a defendant could be charged with gross negligence manslaughter.
It includes whether a duty of care existed towards the deceased, whether there was a breach of that duty of care that significantly contributed towards the death of the victim, and whether that breach should be characterised as gross negligence.
Unannounced visits from police "Where the police are investigating manslaughter, operators should expect unannounced visits to their operating centres and offices, document raids, significant interviewing of staff and potentially arrests," she says. "I have seen the police arrest directors and workers after a workplace fatality, take them to the police station and interview them as a suspect under caution. "This can be a very unnerving process that not only causes huge business disruption, but also tremendous personal stress on the individuals involved."
Woodfine adds that, although she would not describe gross negligence manslaughter charges as common, since the introduction of the Corporate Manslaughter and Corporate Homicide Act 2007 (see box) the police are becoming more comfortable with investigating workplace fatalities.
Woolfall says the problem for prosecuting authorities is that good evidence must exist to show the individual involved was grossly negligent, such as that the director played a key part in issuing orders, or ignored the obvious.
Maximum penalty "Prosecutions have been brought in cases where vehicles have been defective and senior managers or directors have ordered the vehicle on to the road regardless of its condition, or where it has been known that drivers run a risk of falling asleep at the wheel," he adds. "However, these are relatively rare."
The maximum penalty for gross negligence manslaughter is life imprisonment. Woodfine says that, to avoid the charge, operators must ensure there is a strong culture of compliance being driven through the business from the top down. "After a work-related fatality, gross negligence manslaughter is the most serious of charges available to the prosecution and it is much less likely to be charged than a charge under the Health and Safety at Work Act," she says.
"However the message is really simple: operators must be compliant as deliberate corner-cutting could result in the most serious charges being brought after a fatality. Haulage companies must pay close attention to the laws and guidance on health and safety as well as ensuring that they comply with their obligations under their operator's licence." • Historical difficulties in pinpointing an individual in a large company who has committed the offence of manslaughter have led to the relatively new notion of "corporate" manslaughter.
According to Andrew Woolfall, the Corporate Manslaughter and Corporate Homicide Act 2007 introduced substantial changes, which enabled an organisation to be found guilty of manslaughter if the way in which its activities were managed or organised caused a person's death and amounted to a gross breach of a relevant duty of care owed by the organisation to the deceased.
"The new legislation made no offence for individuals so directors, owners or senior managers are not caught by the new legislation," he says. "However, that is not to say that they cannot be prosecuted for more traditional offences if they have been committed."
Vikki Woodfine says penalties for corporate manslaughter offences include unlimited fines, remedial orders and publicity orders. Remedial orders require a company to take steps to remedy any management failure that led to the death while publicity orders force a company to publicise that it has been convicted. CORPORATE MANSLAUGHTER