Firm fined after homes are left without power Raised tipper
11th July 2013
Page 17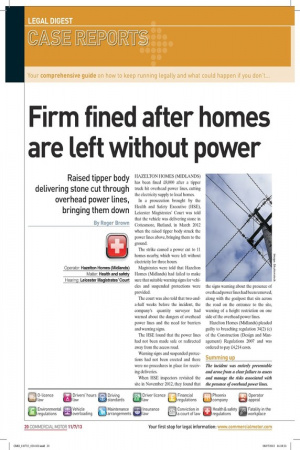 Page 17, 11th July 2013 —
Firm fined after homes are left without power Raised tipper
Close
body delivering stone cut through overhead power lines, bringing them down y Roger Brown HAZELTON HOMES (MIDLANDS) has been fined £8,000 after a tipper truck hit overhead power lines, cutting the electricity supply to local homes.
In a prosecution brought by the Health and Safety Executive (HSE), Leicester Magistrates' Court was told that the vehicle was delivering stone in Cottesmore, Rutland, in March 2012 when the raised tipper body struck the power lines above, bringing them to the ground.
The strike caused a power cut to 11 homes nearby, which were left without electricity for three hours.
Magistrates were told that Hazelton Homes (Midlands) had failed to make sure that suitable warning signs for vehicles and suspended protections were provided.
The court was also told that two-anda-half weeks before the incident, the company's quantity surveyor had warned about the dangers of overhead power lines and the need for barriers and warning signs.
The HSE found that the power lines had not been made safe or redirected away from the access road.
Warning signs and suspended protections had not been erected and there were no procedures in place for receiving deliveries.
When HSE inspectors revisited the site in November 2012, they found that the signs warning about the presence of overhead power lines had been removed, along with the goalpost that sits across the road on the entrance to the site, warning of a height restriction on one side of the overhead power lines.
Hazelton Homes (Midlands) pleaded guilty to breaching regulation 34(2) (c) of the Construction (Design and Management) Regulations 2007 and was ordered to pay £4,214 costs.
Summing up The incident was entirely preventable and arose from a clear failure to assess and manage the risks associated with the presence of overhead power lines.