Higher van prices on the horizon Good-quality used vans are
11th July 2013
Page 14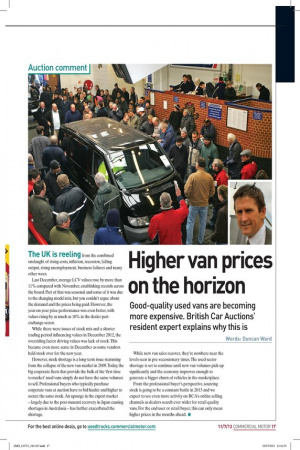 Page 14, 11th July 2013 —
Higher van prices on the horizon Good-quality used vans are
Close
becoming more expensive. British Car Auctions' resident expert explains why this is iu.ub: uuncan Ward The UK is reeling from the combined onslaught of rising costs, inflation, recession, falling output, rising unemployment, business failures and many other woes.
Last December, average LCV values rose by more than 11% compared with November, establishing records across the board. Part of that was seasonal and some of it was due to the changing model mix, but you couldn't argue about the demand and the prices being paid. However, the year-on-year price performance was even better, with values rising by as much as 18% in the dealer partexchange sector.
While there were issues of stock mix and a shorter trading period influencing values in December 2012, the overriding factor driving values was lack of stock. This became even more acute in December as some vendors held stock over for the new year.
However, stock shortage is a long-term issue stemming from the collapse of the new van market in 2009. Today, the big corporate fleets that provide the bulk of the 'first time to market' used vans simply do not have the same volumes to sell. Professional buyers who typically purchase corporate vans at auction have to bid harder and higher to secure the same stock. An upsurge in the export market — largely due to the post-tsunami recovery in Japan causing shortages in Australasia — has further exacerbated the shortage. While new van sales recover, they're nowhere near the levels seen in pre-recessionary times. The used sector shortage is set to continue until new van volumes pick up significantly and the economy improves enough to generate a bigger churn of vehicles in the marketplace.
From the professional buyer's perspective, sourcing stock is going to be a constant battle in 2013 and we expect to see even more activity on BCA's online selling channels as dealers search ever wider for retail quality vans. For the end user or retail buyer, this can only mean higher prices in the months ahead. •