USED TRUCKS TRUCK OF THE WEEK Automated drive is a
11th July 2013
Page 13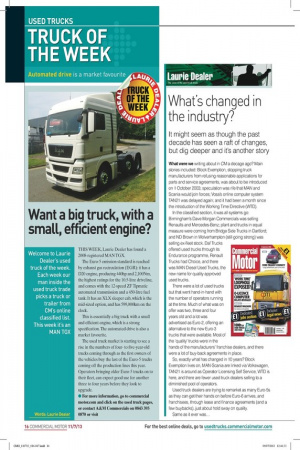 Page 13, 11th July 2013 —
USED TRUCKS TRUCK OF THE WEEK Automated drive is a
Close
market favourite Want a big truck, with a small, efficient engine? -, Welcome to Laurie Each week our man inside the CM's online clock.
classified list.
This week it's an — THIS WEEK, Laurie Dealer has found a 2008-registered MAN TGX.
Dealer's used The Euro-5 emission standard is reached truck of the week. by exhaust gas recirculation (EGR): it has a D20 engine, producing 440hp and 2,100Nm, the highest ratings for the 10.5-litre driveline, and comes with the 12-speed ZF Tipmatic used truck trade automated transmission and a 450-litre fuel picks a truck or tank. It has an XLX sleeper cab, which is the trailer from mid-sized option, and has 599,000km on the This is essentially a big truck with a small and efficient engine, which is a strong specification. The automated drive is also a MAN TGX market favourite.
The used truck market is starting to see a rise in the numbers of fourto five-year-old trucks coming through as the first owners of the vehicles buy the last of the Euro-5 trucks coming off the production lines this year. Operators bringing older Euro-5 trucks on to their fleet, can expect good use for another three to four years before they look to upgrade.
• For more information, go to commercial motor.com and click on the used truck pages, or contact A&M Commercials on 0843 393 0870 or visit