Optimism boost OPERATORS WERE AS optimistic in June as they
11th July 2013
Page 11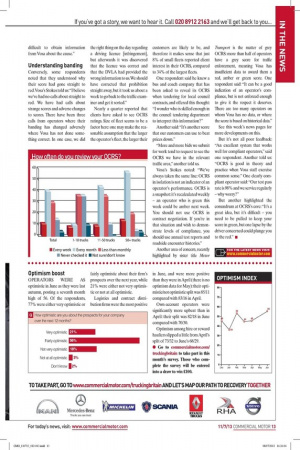 Page 11, 11th July 2013 —
Optimism boost OPERATORS WERE AS optimistic in June as they
Close
were last autumn, posting a seventh month high of 56. Of the respondents, 77% were either very optimistic or fairly optimistic about their firm's prospects over the next year, while 21% were either not very optimistic or not at all optimistic Logistics and contract distribution firms were the most positive in June, and were more positive than they were in April (there is no optimism data for May): their optimistic/not optimistic split was 85/11 compared with 83/16 in April.
Own-account operators were significantly more upbeat than in April: their split was 82/18 in June compared with 70/30.
Optimism among hire or reward hauliers slipped a little from April's split of 73/32 to June's 68/29.
• Go to conunercialmotor.com/ truckingbritain to take part in this month's survey. Those who complete the survey will be entered into a draw to win £100.